https://gymnearme.net.au/backend/profiles/get_profiles?gym_id=3349&include_types=1&include_classes=1&include_features=1&include_social=1&include_memberships=1&include_offers=1&include_hours=1&include_reviews=1&include_google_place=1&include_average_review=1&return_url=1
Category
Gym

Fitness Center

Health Centre
Classes
Fitness Center

Personal Trainers

Circuit

HIIT

Yoga

Pilates

Zumba

Dance

Spin

Boxing

Martial Arts
Opening Hours
Mon: Open 24 Hours
Tue: Open 24 Hours
Wed: Open 24 Hours
Thu: Open 24 Hours
Fri: Open 24 Hours
Sat: Open 24 Hours
Sun: Open 24 Hours
Membership Plans Available at Anytime Fitness Randwick
Anytime Fitness Randwick offers 24/7 access to 540+ clubs for $19.95 per week for 12 months or $17.95 per week for 18 months.
| Plan | Description | Price |
| --- | --- | --- |
| DD 12 MNTHS WEEKLY - ONLINE ($2 OFF) | 540+ Clubs | 24/7 Access. Start your health and fitness journey with Anytime Fitness today. Join the biggest and most welcoming fitness community in Australia. | $19.95 - weekly |
| DD 18 MNTHS WEEKLY - ONLINE ($2 OFF) | 540+ Clubs | 24/7 Access. Start your health and fitness journey with Anytime Fitness today. Join the biggest and most welcoming fitness community in Australia. | $17.95 - weekly |
About Anytime Fitness Randwick
Whether you're at home or in club, start your health and fitness journey with Anytime Fitness today. Join the biggest fitness community in Australia.
Welcome to Australia's largest fitness community. We help half a million people change their lives every day.
Your membership gives you access to our clubs all over the world so you get your fitness fix 24 hours a day, 7 days a week. Whatever your goal, you can achieve it with Anytime Fitness.
We specialise in Health & Fitness, Weight Lifting, Weight Loss and Personal Training!
See what makes Anytime Fitness Randwick the Best Gym in Town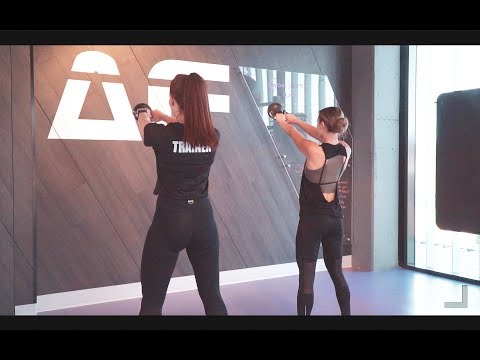 Experience the energy and community at Anytime Fitness Randwick.
See our certified trainers in action and get a feel for the energy and community at our gym. Watch now and come experience the difference at Randwick.
Get a feel for the lively and supportive atmosphere that sets Anytime Fitness Randwick apart from other gyms in Randwick
See firsthand the dedication and passion of our certified trainers as they guide and inspire members to reach their fitness goals.
Map
Enquire and view gym prices at Anytime Fitness Randwick. No obligation to join.
Customer Reviews
Anytime Fitness Randwick is a great gym that offers a wide range of facilities and features to its members. Customers love the friendly and welcoming staff, who are always willing to help out and provide advice. The gym is also very clean and tidy, and the equipment is well maintained. Customers also appreciate the convenience of the gym's location, as it is close to public transport.
The staff at Anytime Fitness Randwick are highly praised for their professionalism and communication skills. Customers have commented on how friendly and helpful the staff are, and how they always greet members with a smile. The staff are also very knowledgeable and can provide advice on technique and how to use the machines.
The gym also offers a great atmosphere and a sense of community. Customers have commented on how the gym is not intimidating and is beginner and age friendly. The gym also offers personal training options and classes, as well as a range of exercise and training protocols. Customers have also praised the gym for its security and parking options. All in all, Anytime Fitness Randwick is a great gym that offers a wide range of facilities and features to its members.
Since i became a member it has change management for the better, dealing with Alanah is a pleasure she is very helpful and friendly, you are always greeted with a smile by the rest of the staff also, it is good to have female management, it accommodates a nice environment to train in! and a the music is normal which is great, I listen to all types of music but some of the gyms i have trained in play music that uses disgusting lyrics 24/7 creating an uncomfortable environment. i would recommend Randwick Anytime fitness Anytime.
michael mowbray
Rude behavior, Worst customer service and Lack of communication skills. I was not visiting the gym as I had lost my father and was not in good health. They kept deducting the money from my account. I asked Alannah to cancel my gym membership, she insisted that I should freeze the membership. I agreed to freeze. Later on, when one of my friends asked me to take my membership, I called the reception to ask about the procedure for transferring the membership, they told me that it cannot be done online you will have to visit the club. Yesterday, when I visited the club with my friend for a membership transfer, the girl in the office told me that on transferring the membership, he cannot use the same key that I was using. I was asked to buy a new key and then she transferred the membership. I was also told that the membership should be in the same club and after a month he will be able to use the other club. There was no refund of my key amount. Finally, I wanted to ask for a receipt or a mail about a successful membership transfer, so she asked me to wait outside the office. After waiting for a long time, she opened the gym door and asked me to leave the gym for no reason instead of giving the proof for membership transfer. She really needs a lot of training in communication and customer service skills. Today, I received one message from anytime fitness that my membership has been frozen from 22/10/22 to 13/01/23. They are cheating us. I hope this review will help others who are looking to join this club.
Umar Farooq
Staff are fantastic, always very welcoming and try to accommodate members as best as possible. Hard to train at peak hours due to the size of gym, would love to see a expansion of the floor space as originally planned and a weighted ab machine implemented. Overall feel it's a good gym to train at with a few improvements needed that would make it even better.
Chris Malone
I have been AF's member for the last 3.5 years & i must say i have never come across such a poorly managed & maintained branch as Randwick. First of all, there was an issue with my membership. The branch manager (Alanah) signed me up to start in 3 weeks' time promising that i would be able to access all other branches from day 1 (as it was important for me due to nature of my job). But when i called her to confirm this just before my commencement date, i was told that it was not the case & she made a mistake. There was no prior communication made to me by the branch manager regarding this nor any resolution was provided to me even after calling her 3-4 times. The whole experience was very dodgy & seemed like they were just after the money. I must say, the branch manager definitely needs a lot of training in communication & customer service skills. After all this hassle, when i commenced my membership with them, the poor & incapable management of the gym was quickly evident. I have attached few pics of the gym. As can be seen, there are no sanitizers/wipes/paper towels in the gym, no place to hang the cardio mats anywhere (they're just piled up behind one of the racks), the tricep ropes are about to be snapped (they are literally hanging by few threads) & the worst thing is the existing water tap doesn't work so nowhere to fill up a bottle. I have been to many different branches of AF, but this is probably the worst branch there is. I made a huge mistake trusting their words & now i am stuck with them for the next 30 days. I hope this review helps others who are looking to join the gym & hopefully encourages the management to offer facilities to their customers worth their money.
Swapnil Ganbote
I had a terrible experience with the gym. I cancelled my plan during covid (within 30 days notice period) and when the gym returned, I was half charged a month and then fully charged for the next months for Randwick. I was charged $134 in total to cancel my membership even if I have informed in within 30 days notice. They were quickly and intense/ annoying to request the payment when they thought I was missing but when I proved they were wrong and charged me inappropriately, they stopped to reply. Easy to get into and hard to leave the membership. Seems easier to make a complain with Fair Trading than having my inadvertently charged money back.
Luciene Assis