https://gymnearme.net.au/backend/profiles/get_profiles?gym_id=5278&include_types=1&include_classes=1&include_features=1&include_social=1&include_memberships=1&include_offers=1&include_hours=1&include_reviews=1&include_google_place=1&include_average_review=1&return_url=1
Category
Gym

HIIT/FUNCTIONAL Studio

Womens Only Gym
Classes
Circuit

HIIT

Yoga

Pilates

Zumba
Opening Hours
Mon: 05:30 - 18:00
Tue: 05:30 - 18:00
Wed: 05:30 - 18:00
Thu: 05:30 - 18:00
Fri: 05:30 - 11:00
Sat: Closed
Sun: Closed
Membership Plans Available at Curves Gympie
Curves Gympie offers a variety of membership options, ranging from $10 per week for a basic membership to $20 per week for a premium membership. Basic memberships include access to the gym and group classes, while premium memberships include access to the gym, group classes, and personal training sessions.
About Curves Gympie
Curves has helped millions of women around the world to get healthier and stronger. Visit your local Curves gym and meet with a Curves coach today!
Curves Gympie is all about everyday women finding and developing strength physically, mentally and socially through our wonderful, supportive community. Proving that fitness can be fun.
We cater for women of all ages and backgrounds, and offer fitness and Weight Management programs and obligation free consultations.
Curves members have real success whether it be gaining strength, weight loss, or improvement in confidence and health.
Gympie Curves first opened its doors in 2005 and a number of foundation members still attend today, benefiting from the Curves approach to fitness.
We are a women's only fitness facility, featuring a complete approach of exercise, meal plans and motivational personalised coaching all under one roof.
See what makes Curves Gympie the Best Gym in Town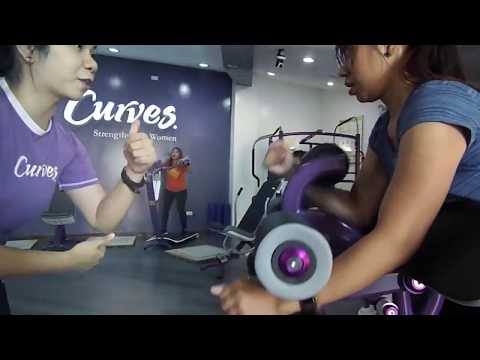 Experience the energy and community at Curves Gympie.
See our certified trainers in action and get a feel for the energy and community at our gym. Watch now and come experience the difference at Gympie.
Get a feel for the lively and supportive atmosphere that sets Curves Gympie apart from other gyms in Gympie
See firsthand the dedication and passion of our certified trainers as they guide and inspire members to reach their fitness goals.
Map
Enquire and view gym prices at Curves Gympie. No obligation to join.
Customer Reviews
Customers love Curves Gympie for its welcoming atmosphere and friendly staff. Kerry is a particular highlight, with customers praising her for her motivation and kindness. The gym offers a great way to get fit and make healthier life choices, with a supportive environment that encourages empathy and understanding. The facilities are top-notch, with a wide range of classes and personal training options available. The gym also offers excellent security and parking, and is open at convenient times. Customers appreciate the variety of exercise and training protocols available, as well as the personal attention they receive from the staff. All in all, Curves Gympie is a great place to get fit and make healthier life choices.