https://gymnearme.net.au/backend/profiles/get_profiles?gym_id=5240&include_types=1&include_classes=1&include_features=1&include_social=1&include_memberships=1&include_offers=1&include_hours=1&include_reviews=1&include_google_place=1&include_average_review=1&return_url=1
Category
Gym

HIIT/FUNCTIONAL Studio

Womens Only Gym
Opening Hours
Mon: 00:00 - 00:00
Tue: 00:00 - 00:00
Wed: 00:00 - 00:00
Thu: 00:00 - 00:00
Fri: 00:00 - 10:30
Sat: 00:00 - 10:30
Sun: Closed
Membership Plans Available at Curves
Curves Petersham offers a range of membership options, starting from $19.95 per month, which gives you access to the gym, group classes, and personal training sessions.
About Curves
Curves has helped millions of women around the world to get healthier and stronger. Visit your local Curves gym and meet with a Curves coach today!
Curves is a facility specially designed for women that features a complete 30-minute workout that is fun, fast, and safe. Curves has helped women around the world get healthier and stronger with our unique fitness solution. In just 30 minutes, you work every major muscle group through a proven gym program of strength training, cardio and stretching. When you get stronger increase your flexibility and work to prevent injury - you're setting the stage for a healthy, more active future. As a member, you can take as many classes as you'd like. Our gym classes range from low to high intensity, which means you can always find a program that works for you.
See what makes Curves the Best Gym in Town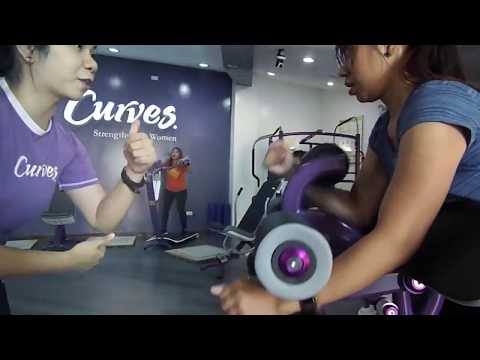 Experience the energy and community at Curves.
See our certified trainers in action and get a feel for the energy and community at our gym. Watch now and come experience the difference at Petersham.
Get a feel for the lively and supportive atmosphere that sets Curves apart from other gyms in Petersham
See firsthand the dedication and passion of our certified trainers as they guide and inspire members to reach their fitness goals.
Map
Enquire and view gym prices at Curves. No obligation to join.
Customer Reviews
Curves Petersham is a ladies gym that offers a unique and friendly atmosphere, making it the perfect place for women of all ages and fitness levels to exercise. The staff are highly professional, knowledgeable and caring, and go out of their way to make sure that everyone feels welcome and valued. The half hour resistance training sessions are designed to help keep customers strong and healthy, and the coaches are always on hand to offer advice and support.
The gym is well-maintained and clean, and the hydraulic equipment is brand new. Customers also appreciate the availability of street parking and the fact that the gym sells NO PONG deodorant. The atmosphere is relaxed and non-judgemental, and customers have commented on the great comradeship and fun environment.
Overall, customers have praised Curves Petersham for its excellent facilities, friendly staff, and welcoming atmosphere. They have also commented on the great support and care they receive from the coaches, as well as the quick and full body workout that they can get in just half an hour. With its personal training options, exercise protocols, and opening times, Curves Petersham is the perfect place for women to get strong and healthy.
I love everything about Curves! The staff are lovely, the members are fantastic and the workout is amazing. I was only intending on joining for a couple of months, but it's been six months now and I've no intention of leaving. I love the changes I've see in my body from attending three times a week.
Angela M
Curves Petersham is the only way to exercise, gain knowledge and make friendships with like minded women. Michelle and her coaches are outstanding. All of the coaches are mentors who genuinely care about the women who attend Curves, they go out of their way to make you feel welcome, valued and ensure you are making the best of the time when attending the centre. The coaches have exceptional knowledge about lifestyles changes and tweaks that you could employ to assist your individual situation. They ensure you are executing the exercises correctly ,offering suggestions to make the exercises harder if needed or easier to accommodate individual needs or health concerns. They are like family and we are stronger when we feel supported and cared for. I missed the centre immensely and felt lost during lockdown and can't wait to return as soon as possible. I cannot recommend this exceptional centre enough and would not hesitate to join if you are looking for a non judgemental, professional , organised and caring centre of excellence. Thank you Michelle and coaches for your continued support and care.
Elizabeth B
Curves Petersham is the perfect exercise environment for women of all ages and fitness levels. The circuit is manageable for all. Michelle and the team are very welcoming and respond to each client in a professional, encouraging and realistic way. It's a gym without, what I think of, as the negative overtones and unrealistic expectations of gyms. No worries about what you look like or what you wear. Just be comfortable! The women using the gym are also friendly and welcoming. The team sets the tone. Come join us! Elaine Prest
Elaine Prest
If you are looking for a gym where you feel comfortable, motivated and treated like a member ( and not just a number) then you have to join Curves at Petersham. The trainers are genuine, the members are lovely, and the premises are clean and well maintained. I feel very safe here each time I come in as I know the staff are taking COVID 19 precautions seriously. Do your health a favour and give Michelle a call.
Melissa Woodhouse