https://gymnearme.net.au/backend/profiles/get_profiles?gym_id=3582&include_types=1&include_classes=1&include_features=1&include_social=1&include_memberships=1&include_offers=1&include_hours=1&include_reviews=1&include_google_place=1&include_average_review=1&return_url=1
Category
Gym

Fitness Center

Health Centre

Boxing

Martial Arts

Womens Only Gym
Classes
Boxing

Martial Arts

Group Classes

Spin
Opening Hours
Mon: Open 24 Hours
Tue: Open 24 Hours
Wed: Open 24 Hours
Thu: Open 24 Hours
Fri: Open 24 Hours
Sat: Open 24 Hours
Sun: Open 24 Hours
Membership Plans Available at Derrimut 24:7 Gym - Thomastown
At Derrimut 24_7 Thomastown, you can get access to all Derrimut 24:7 Gyms Australia wide, with 24:7 access, group fitness classes, other features like saunas, basketball courts, and rock climbing walls, personal trainers, and a fully stocked supplement superstore, for as little as $7.00 per week.
| Plan | Description | Price |
| --- | --- | --- |
| $299 12 MONTH UPFRONT | - Access all Derrimut 24:7 Gyms Australia wide! | $299 - |
| $7.00 12 MONTH CONTRACT MEMBERSHIP | - Access all Derrimut 24:7 Gyms Australia wide! | $7.00 - weekly |
| $14.95 DIRECT DEBIT PER WEEK* | - Access all Derrimut 24:7 Gyms Australia wide! | $14.95 - weekly |
| $17.95 DIRECT DEBIT PER WEEK* | - Access all Derrimut 24:7 Gyms Australia wide! | $17.95 - weekly |
| $19.95 DIRECT DEBIT PER WEEK* | - Access all Derrimut 24:7 Gyms Australia wide! | $19.95 - weekly |
| $749 UPFRONT MEMBERSHIP* | - 24:7 access (no additional fee) | $749 - weekly |
About Derrimut 24:7 Gym - Thomastown
At Derrimut 24:7 Gym, we strive to support a holistic, life-changing health & well being journey for every individual at an affordable price. We are More than a gym.
Derrimut 24:7 Gym is open and staffed 24 hours, every day of the year! That's right, WE NEVER CLOSE! We take great pride in providing fitness enthusiasts the opportunity to train, no matter what the time, the day or the weather!
Nationally renowned as Australia's Biggest Gym, we offer a variety of services to create a gym experience like no other!
All locations house the world's first-rate, champion exercise equipment brands such as Nautilus, Hammer Strength and Life Fitness, extensive Group Fitness Classes, a Protein 24:7 Supplement superstore and all gyms are fully air-conditioned.
See what makes Derrimut 24:7 Gym - Thomastown the Best Gym in Town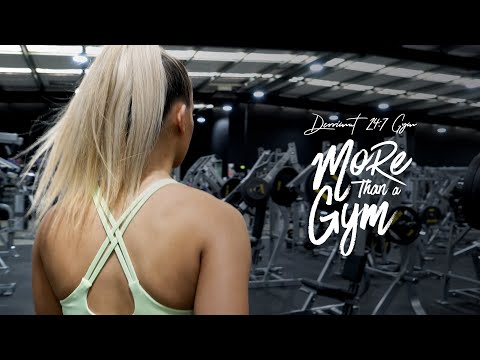 Experience the energy and community at Derrimut 24:7 Gym - Thomastown.
See our certified trainers in action and get a feel for the energy and community at our gym. Watch now and come experience the difference at Thomastown.
Get a feel for the lively and supportive atmosphere that sets Derrimut 24:7 Gym - Thomastown apart from other gyms in Thomastown
See firsthand the dedication and passion of our certified trainers as they guide and inspire members to reach their fitness goals.
Map
Enquire and view gym prices at Derrimut 24:7 Gym - Thomastown. No obligation to join.
Customer Reviews
Derrimut 24_7 Thomastown is a great gym for anyone looking for a safe and welcoming environment to get fit. Customers love the spacious gym, which is well lit and has plenty of equipment, including dumbbells, lifting platforms, squat racks, cable machines, and rows of cardio. The staff are friendly and helpful, and the yearly price specials are great value. Customers also appreciate the ladies-only gym, and the fitness classes that are available.
The gym is kept clean and well maintained, and the staff do their best to keep the weights stacked and neat. The air conditioning and fans are always on, and the gym is open 24/7, so customers can always find a time to fit in their workout.
The only downside is that some customers have complained about rude members who don't put their weights away, and the occasional broken equipment. However, overall customers are very happy with the gym and the staff, and would highly recommend it to anyone looking for a great place to work out.
Signed up here in June. The manager advised me that the yearly fee of $550 would be going up after the financial year (4 days at the time) to $750 so I'd better get in quick. It's now November and the fee has since been going down every month, it sits now at $200. Broke my trust from the start. Pro's The gym it's self is fantastic, lots of great up-to-date machines and it's massive. Big open spaces to work out/warmup. Female separate Gym. Harry who is an amazing PT who really helped push me and get me back into shape with a personalized training program. The girl who works on the weekdays is very friendly always saying hello and goodbye with a smile. Con's The clients who attend. Leave their weights everywhere, never have I once seen someone unload their machine. (to use a machine you have to unload 80kgs off the machine first) To find a dumbbell you have to pace around the entire gym because it could be anywhere. No one uses a towel or keeps the machines clean. There are two Yoga/workout mats which are completely destroyed. The music is so loud that is cuts through noise cancelling headphones. Clients using multiple machines at once, calling dibs by leaving their personal belongings (bag, phone) on other machines in their line of sight whilst they go to workout on another machine and have a go at you if you move their stuff so you can do your workout. There was a time where I saw one client had 6 kettlebells and 4 pairs of dumbbells in the corner leaving the rack half empty, and guess what? He didn't put a single one back, this is very common amongst clients. Someone even went as far as aggressively shoulder barging me as I was walking past with a load of open space, he walked toward me and drifted into the path I was walking and forced his shoulder at me, hit me and laughed, there was no one else around and bout 5 metres of space to pass each other. This isn't High School, the demographic of people who attend is really bad, not sure if it's the suburb or low price, or both? If you want a nice place to work out go somewhere else and pay the extra, the cheap price comes at a cost. Suggestions No point complaining without a suggestions I understand you can't just make people change so here are some ways to improve. Make strict rules on hygiene, (signs on every machine) have sanitizing stations everywhere and encourage those who don't use towels to sanitize their equipment. Signs to unload their machines and put weights back to their original place. Signs for one machine at a time, using multiple machines at once is unfair to everybody else who attends. Re-organizing the weights every morning for those who can't read or don't care. Make all of this clear in a new sign up terms and conditions and come down on people if they don't follow the gym rules. Buy new Yoga/workout mats and consider that on average you have 30-50 people at the Gym, so might need more than 2. Turn down the music a bit to give clients space to think, also customer friendly jukebox would be nice so you can gauge what music clients are into to tailor your playlists to more client based music. That is all.
Chris Russell
The biggest issue is members who think it's ok to: - not ever restack weights (the signs do nothing, you need to police it.) - hog multiple machines at once - use a bunch of sets of dumbbells at once (and not put them back) - be loud and obnoxious to the point where other gym goers cannot properly workout - men being openly creepy - not use deodorant apparently! Other issues: - Equipment is always out of order it's insane - aircon/fans are never on - needs so many more cable attachments - staff are hit or miss - needs a pit shark - so insanely busy all the time - yoga mats (if you can even call them that) are a disaster. Also there's only like 2. All in all this gym could be incredible but rude members ruin things and the staff really need to crack down on this behaviour.
Mel S
I've been to many gyms over the years and feel that in addition to quality gym equipment and cleanliness of a gym, customer service is something that I highly value. Every time I've attended the Derrimut gym in Thomastown, I am greeted with such a welcoming and warm greeting by one of the most awesome staff Ecem, who not only welcomes me but checks in on how I am. In addition, another young male staff member who also provides great customer service. You guys are awesome!!! Love the vibe and enthusiasm guys.
Chidz