https://gymnearme.net.au/backend/profiles/get_profiles?gym_id=3615&include_types=1&include_classes=1&include_features=1&include_social=1&include_memberships=1&include_offers=1&include_hours=1&include_reviews=1&include_google_place=1&include_average_review=1&return_url=1
Category
Gym

Fitness Center

Health Centre

Womens Only Gym
Classes
Pilates

Yoga

Spin

Group Classes
Opening Hours
Mon: Open 24 Hours
Tue: Open 24 Hours
Wed: Open 24 Hours
Thu: Open 24 Hours
Fri: Open 24 Hours
Sat: Open 24 Hours
Sun: Open 24 Hours
Membership Plans Available at Fernwood Fitness
Fernwood Fitness Campbelltown offers 3 different membership plans - 18 months for $25.95 per week, 12 months for $27.95 per week, and 3 months for $31.95 per week - with access to the gym floor, group classes, yoga and mat Pilates classes, free breakfast, and sparkling clean change rooms and free toiletries.
Plan
Description
Price
Fernwood 18 Month Ongoing

Access to gym floor
including cardio & weights equipment

$25.95 - weekly
Fernwood 12 Month Ongoing

Access to gym floor
including cardio & weights equipment

$27.95 - weekly
Fernwood 3 Month Ongoing

Access to gym floor
including cardio & weights equipment

$31.95 - weekly
About Fernwood Fitness
Fernwood Fitness clubs are the best women's only gyms offering fitness classes, reformer Pilates, weights, free breaky, PT, cardio, HIIT & yoga. Join today!
Welcome to Fernwood Campbelltown. We offer a great range of fitness classes and equipment suitable for all fitness levels. Our members tell us they enjoy the warm and inviting atmosphere of our club and love the great results they are achieving.
Our qualified and friendly staff are always on hand to provide motivation, and can offer a range of options to help you achieve your personal fitness goals. We also have child-minding facilities and parking is easily accessible.
See what makes Fernwood Fitness the Best Gym in Town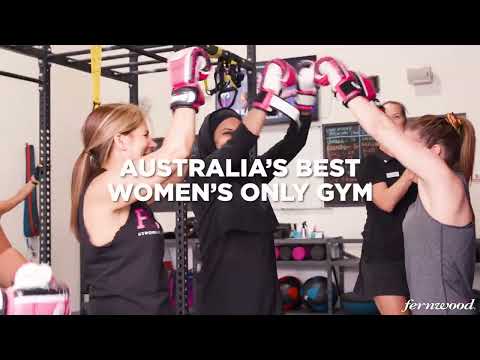 Experience the energy and community at Fernwood Fitness.
See our certified trainers in action and get a feel for the energy and community at our gym. Watch now and come experience the difference at Campbelltown.
Get a feel for the lively and supportive atmosphere that sets Fernwood Fitness apart from other gyms in Campbelltown
See firsthand the dedication and passion of our certified trainers as they guide and inspire members to reach their fitness goals.
Map
Enquire and view gym prices at Fernwood Fitness. No obligation to join.
Customer Reviews
Fernwood Fitness Campbelltown is a great gym that offers a wide range of activities for any fitness level. Customers love the friendly staff, professional crèche, clean change rooms and bathrooms, and fun group classes. Personal training sessions with Mel, Karla, Souad, and Kirsty are highly recommended, as they set goals and motivate customers to reach their potential. The Fiit30 program is a game changer for many customers, and the MMA class is a great way to get fit.
The crèche is a great service for parents, as the staff are kind and caring and the area is always kept clean. Chloe is an amazing personal trainer who listens to customers' concerns and goals and pushes them to become the best version of themselves. The staff are always friendly and welcoming, and the price arrangements are affordable.
Overall, customers love the atmosphere at Fernwood Fitness Campbelltown, as it is a positive and supportive environment. The staff are professional and helpful, and the classes and personal training sessions are tailored to each customer's needs. Highly recommended!
Absolutely LOVE Fernwood Fitness Campbelltown. I have been a member for a few years now (on and off due to health reasons) and I always keep coming back. The team there are such a supportive and fun community and the classes are so addictive and challenging! I definitely recommend this gym to any woman who wants to empower herself and reach her goals.
Rebecca Saba
Fernwood fitness Campbelltown is a seriously awesome gym! I love going there. The customer service is excellent with super friendly staff who always greet you with a smile and make you feel welcome. The amenities are great, always clean which is very important to me. There are plenty of different classes to suit all different fitness levels and the instructors give great guidance/form assistance. This is actually the best gym I've ever joined. Great job to the whole team, you're all stars!
Tina Vandermaas
I have been going to Fernwood Campbelltown for a couple of years now and I love every bit of the gym! The staff are very friendly and help answer any questions you have, the crèche is professional always neat, tidy and clean. The change rooms and bathrooms always cleaned and in immaculate condition. The group classes are always fun and you always have a good workout. I also do PT with Mel, she is amazing! She sets you goals to achieve and motivates you to reach your potential. I would definitely recommend this gym to all my family and friends!!
Penelope Nazari
It's been almost a year since I joined them, and it's great so far. I was after something more than the pieces of equipment to train and I found the most exciting program. Fiit30 has been a game changer in my fitness life. The amazing F30 coaches Karla, Souad and Kirsty are just the best. They work close to us, making us work at our best and have a great time. Recommend this place!
Luísa De Souza Miranda
Amazing gym and amazing staff! Been doing PT for months and I definitely wouldn't have enjoyed the gym nor would have stayed as long as I have if it wasn't for my PT. Very energetic and empowering. I have had zero confidence in myself before joining but decided to take the leap anyway in a 5 minute confidence spur and made the decision to give them a call. They gave a tour of the gym and I was convinced. Joined, and been with them since. Not only has it helped my physical health but it has also greatly improved my mental health as well. Not only that, but knowing that everyone there, not only the staff, are supportive of each other is an amazing feeling. I've had zero problems with this gym. I recommend joining, doing PT, and even doing the classes that are available to everyone, or even doing your own thing.
Jessica Collier