https://gymnearme.net.au/backend/profiles/get_profiles?gym_id=3662&include_types=1&include_classes=1&include_features=1&include_social=1&include_memberships=1&include_offers=1&include_hours=1&include_reviews=1&include_google_place=1&include_average_review=1&return_url=1
Category
Gym

Fitness Center

Health Centre

Womens Only Gym
Classes
Zumba

Pilates

Yoga

Circuit

HIIT
Opening Hours
Mon: 09:00 - 00:00
Tue: 09:00 - 00:00
Wed: 09:00 - 00:00
Thu: 09:00 - 13:00
Fri: 09:00 - 12:00
Sat: 09:00 - 12:00
Sun: Closed
Membership Plans Available at Fernwood Fitness
Fernwood Fitness St Agnes offers two membership options: a 12 Month Fixed Term for $20.00 per week, and a Flexible Membership for $21.95 per week, both of which include access to the gym floor, group classes, yoga and mat Pilates classes, free breakfast, and sparkling clean change rooms with free toiletries.
Plan
Description
Price
Fernwood 12 Month Fixed Term

Access to gym floor
including cardio & weights equipment

$20.00 - weekly
Fernwood Flexible Membership

Month-to-month no lock in contract for added flexibility

$21.95 - weekly
About Fernwood Fitness
Fernwood Fitness clubs are the best women's only gyms offering fitness classes, reformer Pilates, weights, free breaky, PT, cardio, HIIT & yoga. Join today!
At Fernwood St Agnes we are fully equipped and offer: Wellness Studio, Reformer Pilates, Personal Training, Zumba classes, Body Attack, Body Pump, Body Balance, Body Step, Core, RPM, Studio Cycle, Yoga, Mat Pilates, much more.
We are open 24/7 for the convenience for our members.
NEW FITNESS ON DEMAND! We offer Virtual Fitness HERE NOW!
Virtual classes allow you to choose your own class on demand! Find it hard to make a class? Work strange hours? Fitness on demand makes group fitness 24/7.
We also offer at our second site, FIIT30 which is small group training classes, outside and indoor boot camp, physio and Clinical Reformer Pilates, offering our members even more choice and flexibility.
See what makes Fernwood Fitness the Best Gym in Town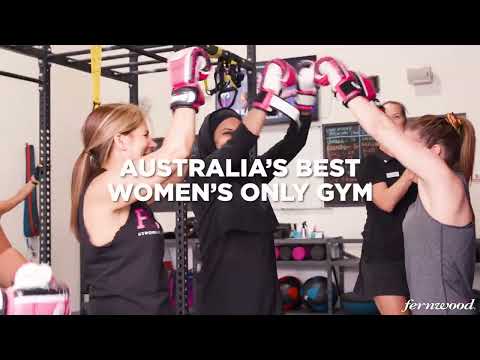 Experience the energy and community at Fernwood Fitness.
See our certified trainers in action and get a feel for the energy and community at our gym. Watch now and come experience the difference at St Agnes.
Get a feel for the lively and supportive atmosphere that sets Fernwood Fitness apart from other gyms in St Agnes
See firsthand the dedication and passion of our certified trainers as they guide and inspire members to reach their fitness goals.
Map
Enquire and view gym prices at Fernwood Fitness. No obligation to join.
Customer Reviews
Fernwood Fitness St Agnes is an amazing gym that is tailored specifically for women. Customers love the friendly and supportive staff, the great variety of classes, the clean and fresh facilities, and the 24 hour access. The gym also offers complimentary breakfast and coffee, child minding facilities, and an infra red sauna. Customers also appreciate the new look and changes that have been made to the gym, as well as the new wellness space that is set to open soon.
The gym also offers virtual classes outside of scheduled class times, which are included in the membership price. Customers also love the motivating atmosphere and the fact that everyone helps each other. The parking is also great and the gym is very welcoming for both new and advanced members.
Overall, customers are extremely satisfied with their experience at Fernwood Fitness St Agnes and would highly recommend it to anyone looking for a gym in the area. The staff are friendly and helpful, the facilities are clean and modern, and the classes are varied and motivating.
Hands down the best fitness facility I've ever visited. Child minding, breakfast, clean showers, friendly staff, les mills classes, crossfit type classes and reformer pilates! You'd be insane to join anywhere else! Edit: Also has an infra red sauna and on demand virtual classes outside of scheduled class times. These are included in your membership price. This place is phenomenal!
Gigi Scott
I see many negative reviews of this gym and I am not sure why. I have been a member of co-ed gyms for 5 years or more and I wish I switched to Fernwood sooner. The gym is very welcoming for new comers and advanced members. Two of my friends have never trained before and they are excited to go to the gym now and love the facilities it offers. The only thing i will say is it is slightly crowded in the free weights area and a revision of the layout wouldn't go astray as some times if there is more than 5 people in the area it is cosy. Also getting some higher quality barbels to deadlift as the ones there are wobbly and it makes it difficult to keep good form. Other than that, I like this gym and I don't think it is depressing!
Jemma Beechey
Came for a trial, was working out with a friend and got told I was training her which was against company policy?! (Which I wasn't) Then 5 minutes later was propositioned by the head PT about having a session. Made us both feel super uncomfortable and unmotivated and we left straight away. Mentioned that we did nothing wrong to the manager and it was kinda just brushed off without resolving our issue. Not happy with those members of staff at all. The rest seemed nice though. The gym itself is very fancy, complimentary food/drinks and a sauna and creche, but needs to be a way bigger free weights area. It's mostly cardio machines and a few other machines. Not my kind of gym unfortunately and its quite expensive at over $20 Per week. I pay only $11.50 per week at my current gym.
Ashleigh Richardson
The best gym ever, staff amazing and so supportive, the upgrades and changes are great, I love the dark colours in the toilets and even the black spin room, use it 3 times a week very modern, not sure what the other ladies going on about, been there over 10 years and have seen many upgrades and changes for the better!!! The NEW club across the road is amazing and love the virtual classes that have just started on Friday! Never seen a boy or a man in the change rooms ever! Never worried about men looking at me at all! Some people shouldn't speak about here say!! their friend said! Because I love my gym and won't go anywhere else, everyone gets a free 30 days to try, so you can be the judge!
Animation Whatever
Absolutely love Fernwood St Agnes! The staff are fabulous and so supportive. Lots of classes on at lots of different times, machines are always in working order or very quickly repaired if there is a problem. They are continually adding different services as well to better the experience. Amazing gym!
Casey Rendell