https://gymnearme.net.au/backend/profiles/get_profiles?gym_id=4085&include_types=1&include_classes=1&include_features=1&include_social=1&include_memberships=1&include_offers=1&include_hours=1&include_reviews=1&include_google_place=1&include_average_review=1&return_url=1
Category
Gym

Fitness Center

Health Centre
Classes
Circuit

HIIT

Yoga

Pilates

Zumba

Dance

Spin
Opening Hours
Mon: 09:00 - 00:00
Tue: 09:00 - 00:00
Wed: 09:00 - 00:00
Thu: 09:00 - 00:00
Fri: 09:00 - 13:00
Sat: 08:00 - 12:00
Sun: Closed
Membership Plans Available at Plus Fitness 24/7 Gladesville
With the Flexi Membership at Plus Fitness Gladesville, you can access the gym 24/7 with no lock-in contract for just $29.90 every two weeks.
| Plan | Description | Price |
| --- | --- | --- |
| Flexi Membership – 24/7 access | Flexible No Lock In Contract | $29.9 - fortnightly |
About Plus Fitness 24/7 Gladesville
Plus Fitness 24/7 Gym - Your Local Gym with over 200 convenient locations across Australia. No Lock In Contracts, Low Prices!
24 Hour gym that has plenty of parking, classes and amazing personal trainers who go above and beyond to help you reach your fitness goals.
See what makes Plus Fitness 24/7 Gladesville the Best Gym in Town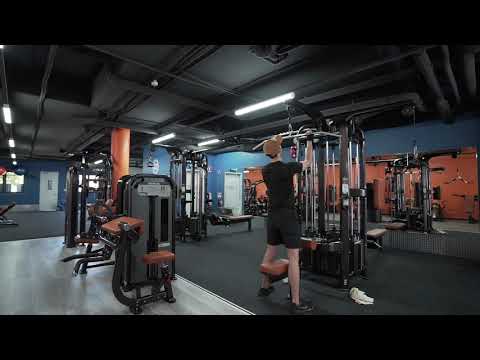 Experience the energy and community at Plus Fitness 24/7 Gladesville.
See our certified trainers in action and get a feel for the energy and community at our gym. Watch now and come experience the difference at Gladesville.
Get a feel for the lively and supportive atmosphere that sets Plus Fitness 24/7 Gladesville apart from other gyms in Gladesville
See firsthand the dedication and passion of our certified trainers as they guide and inspire members to reach their fitness goals.
Map
Enquire and view gym prices at Plus Fitness 24/7 Gladesville. No obligation to join.
Customer Reviews
Plus Fitness Gladesville is a great gym for anyone in the Gladesville/Ryde area. Customers love the friendly and welcoming atmosphere, the cleanliness of the gym, and the helpful staff. The staff, especially Kristy, the manager, are always willing to go the extra mile to help customers and make sure they have a great experience. The gym is well maintained and has all the necessary equipment for a great workout. Customers also appreciate the cheap and flexible plans, the two week notice to cancel, and the lack of joining fees.
The gym is conveniently located and there is usually enough parking nearby. Customers also appreciate the fact that the music is not too loud and irritating. The gym is also very clean and hygienic, and the staff are professional and knowledgeable. Plus Fitness Gladesville also offers personal training options and a variety of classes.
Overall, customers are very happy with Plus Fitness Gladesville and highly recommend it to anyone looking for a great gym. The staff are friendly and helpful, the equipment is well maintained, and the atmosphere is warm and welcoming. Plus Fitness Gladesville is the perfect place to get started on your fitness goals.
Crazy for Plus Fitness 24/7. Even though it's not that large or fancy like others, I feel relaxed, comfortable, and confident being in the Plus Fitness Gym Gladesville. One thing that always annoys me is that I can't switch off the music while doing cardio, especially using a treadmill. If Kristy helps me in that regard, that'll be awesome. parking, personnel, quality, trainers, management, and lastly, a completely hygienic gym. One thing I miss is the water faucet.
Granville Guildford
I discovered that they have been taking money out of my account for the last YEAR and a HALF when I asked for my membership to be cancelled but Kristy verbally said they can put it on hold until I come back and reactive it. And I signed the form and never checked again because I trusted them. Kristy said it's my fault for not checking my back account.. How about you stop tricking and lying to the members? A courtesy phone call if they didn't check show up for the last 18 months like other professional gyms do? Isn't that a basic management and customer service?
Mohammed Nasrelden
What can I say! That's the best gym I have ever been. It's not because it's massive and it's not because there are fancy equipments. Don't get me wrong equipment range is more then enough. The thing that makes it so perfect place to train is the staff and the community. You never feel you are judged, if they sense you are down or don't want to train because of lack of motivation they motivate you and make some jokes to get your mood up. Going to that gym is my favourite part of the day. It's like a therapy. I genuinely love this gym.
Can Karabacak