https://gymnearme.net.au/backend/profiles/get_profiles?gym_id=4087&include_types=1&include_classes=1&include_features=1&include_social=1&include_memberships=1&include_offers=1&include_hours=1&include_reviews=1&include_google_place=1&include_average_review=1&return_url=1
Category
Gym

Fitness Center

Health Centre
Classes
Circuit

HIIT

Yoga

Pilates

Zumba

Dance

Spin
Opening Hours
Mon: 10:00 - 00:00
Tue: 10:00 - 00:00
Wed: 10:00 - 00:00
Thu: 10:00 - 00:00
Fri: 10:00 - 14:00
Sat: 08:00 - 12:00
Sun: Closed
Membership Plans Available at Plus Fitness 24/7 Glenmore Park
Flexi Membership gives you 24/7 access with no lock-in contract for $35.90 per fortnight, while Power Membership gives you 24/7 access with a 12 month minimum term for $29.90 per fortnight.
| Plan | Description | Price |
| --- | --- | --- |
| Flexi Membership – 24/7 access | Flexible No Lock In Contract | $35.9 - fortnightly |
| Power Membership – 24/7 access | | $29.9 - fortnightly |
About Plus Fitness 24/7 Glenmore Park
Plus Fitness 24/7 Gym - Your Local Gym with over 200 convenient locations across Australia. No Lock In Contracts, Low Prices!
24 hour access - Flexible Membership Options - Access to over 200 gym across Australia and New Zealand. Located in Coles level Carpark.
See what makes Plus Fitness 24/7 Glenmore Park the Best Gym in Town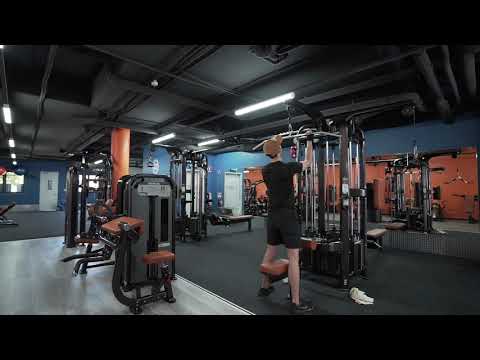 Experience the energy and community at Plus Fitness 24/7 Glenmore Park.
See our certified trainers in action and get a feel for the energy and community at our gym. Watch now and come experience the difference at GLENMORE PARK.
Get a feel for the lively and supportive atmosphere that sets Plus Fitness 24/7 Glenmore Park apart from other gyms in GLENMORE PARK
See firsthand the dedication and passion of our certified trainers as they guide and inspire members to reach their fitness goals.
Map
Enquire and view gym prices at Plus Fitness 24/7 Glenmore Park. No obligation to join.
Customer Reviews
Plus Fitness Glenmore Park is an amazing gym with lots of opportunities for working out. Customers love the friendly and professional staff, the clean and well-equipped facilities, and the welcoming atmosphere. The staff are always willing to help and provide great customer service. Bayleigh, Yvette, Phil, and Morgan are all highly praised for their helpfulness and friendliness. The gym has a great range of equipment, including cardiovascular machines, functional fitness areas, deadlift platforms, and a massive rig. Plus Fitness also offers group classes and personal training options, as well as a private room for those who prefer to work out alone. Customers also appreciate the free ongoing program and assessment with a qualified health professional, which is especially helpful for those who are new to the gym. Overall, customers are very satisfied with Plus Fitness Glenmore Park and would highly recommend it to others.
I am very satisfied and happy with Glenmore Park plus and fitness gym all its trainers. Now with the trainers, my body has become much stronger than before, and this is only for the proper exercises that the trainers give us as a group four days a week. I am very grateful and would like to thank you I highly recommend this gym to people over sixty years old Nasrin Pejman
Nasrin Pejman
Have been going here for a while… Perfect example of what exceptional customer service should be! This gym is mint from the staff, to the equipment, to the facility itself. The staff here are super friendly, competent and willing to help whenever needed! They hold friendliness and integrity to the highest degree. From the ownership, to management, to the trainers, by far the nicest and most knowledgeable staff. Equipment is of high quality and the gym is well cleaned as usual. When you sign up with this gym, just know you will feel super welcomed here, it really feels like we are all a team!! Well done to the club manager Phil for maintaining such a great staff!! 5 stars for PlusFitness Glenmore Park and another 5 stars for Phil, haha :D
Omeir Ali
Never felt comfortable in a gym until I walked into Plus Fitness Glenmore Park. The team are friendly and professional, and nothing is ever too hard for them if you ever ask for their help. I have met some amazing people and I am so grateful to be part of such a great little community. You guys are awesome! This gym is a vibe!
Karen E
Absolutely love this gym, perfect location and love the equipment. Also love the layout of the equipment it makes so much sense to me, there's like 2 main rooms- one focuses more on upper body and the other is full body. They also have a private room which i think all gyms should have this. The stuff are also super great, I love how I when I walk in Im always greeted by a staff member with a quick conversation. It's help me become more comfortable in the gym and become friends with the staff. Especially Zoe - she's the best ahahah - I love her energy she's always helping me do better and get the results I want
Alyssa Trimboli