https://gymnearme.net.au/backend/profiles/get_profiles?gym_id=4110&include_types=1&include_classes=1&include_features=1&include_social=1&include_memberships=1&include_offers=1&include_hours=1&include_reviews=1&include_google_place=1&include_average_review=1&return_url=1
Category
Gym

Fitness Center

Health Centre
Classes
Circuit

HIIT

Yoga

Pilates

Zumba

Dance

Spin
Opening Hours
Mon: Open 24 Hours
Tue: Closed
Wed: Open 24 Hours
Thu: Open 24 Hours
Fri: Open 24 Hours
Sat: Open 24 Hours
Sun: Open 24 Hours
Membership Plans Available at Plus Fitness 24/7 Kirrawee
For just $33.9 per fortnight, you can join Plus Fitness Kirrawee and have access to the gym 24/7 with no lock-in contract.
| Plan | Description | Price |
| --- | --- | --- |
| Flexi Membership – 24/7 access | Flexible No Lock In Contract | $33.9 - fortnightly |
About Plus Fitness 24/7 Kirrawee
Plus Fitness 24/7 Gym - Your Local Gym with over 200 convenient locations across Australia. No Lock In Contracts, Low Prices!
24/7 Fitness Centre/Gym/Personal Training
See what makes Plus Fitness 24/7 Kirrawee the Best Gym in Town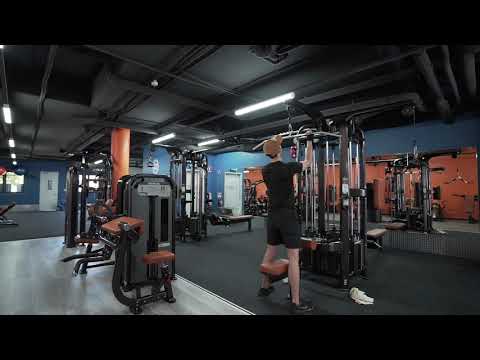 Experience the energy and community at Plus Fitness 24/7 Kirrawee.
See our certified trainers in action and get a feel for the energy and community at our gym. Watch now and come experience the difference at KIRRAWEE.
Get a feel for the lively and supportive atmosphere that sets Plus Fitness 24/7 Kirrawee apart from other gyms in KIRRAWEE
See firsthand the dedication and passion of our certified trainers as they guide and inspire members to reach their fitness goals.
Map
Enquire and view gym prices at Plus Fitness 24/7 Kirrawee. No obligation to join.
Customer Reviews
Plus Fitness Kirrawee is a great gym for anyone looking to get fit and stay healthy. Customers love the clean and well-maintained equipment, the friendly and helpful staff, and the wide variety of classes and personal training options available. The gym is open 24/7, so customers can come and go as they please, and there is plenty of parking available. The price is also very reasonable, making it an affordable option for those on a budget.
Customers also appreciate the spacious layout of the gym, which allows for plenty of room to move around and do a variety of workouts. The staff are friendly and welcoming, and the personal trainers are highly experienced and encouraging. Plus Fitness Kirrawee also offers meals that taste great, and the owner is always looking to improve the gym and keep it modern.
Overall, customers are very pleased with their experience at Plus Fitness Kirrawee. They love the clean and well-maintained equipment, the friendly and helpful staff, the wide variety of classes and personal training options, and the reasonable price. The spacious layout of the gym and the owner's commitment to keeping it modern are also highly appreciated.
I've been to a few gyms using the fitness passport. This one is still my favourite even though it's not my local. The equipment is clean and well-maintained. The ones at Golds and FF have a metallic smell to them and some rusting. The padding on the weight machines were all recently replaced here. Good value for money too. The kiwi lady is really nice, sorry I should get your name haha. Actually all the staff are lovely people. Between 10-2 and after 8pm are good times to train on a weekday. Friday evening not that busy too
Nao Mi
We joined this this 8 weeks ago. Me and my wife been there and talk with them before join the lady told me we have a personal trainer for 1 week. We join and it's been 8 week no one gave us a time .We went to this gym maybe 4-5 days in 8-9 weeks. I have to cancel my membership and have to find a responsible place for us. Also they reply as a fake review. So should I give a screenshot of my texts and the bank statements? Do you want that ?
Niloy's Production
For the simple reason that the people here are racist, I came here last week with steel cap boots and they asked me to leave because that's their policy which is fair enough I didn't complain but how come right this minute I'm looking at the staff members having conversations with people training in steel cap boots. Is it because they're Australian and I'm not?
Sam Obeid
Have been coming since opening back in 2019 and never had a problem. Finding it difficult of late trying to find a time during the week, after work, that isn't packed with people taking up almost all of the weights area. Not the same chilled vibe it used to be. I tried to give 3.5 stars but couldn't. The gym itself is clean and equipment well maintained. This is just my experience with the number of people at peak times.
Nicoletta p