https://gymnearme.net.au/backend/profiles/get_profiles?gym_id=4136&include_types=1&include_classes=1&include_features=1&include_social=1&include_memberships=1&include_offers=1&include_hours=1&include_reviews=1&include_google_place=1&include_average_review=1&return_url=1
Category
Gym

Fitness Center

Health Centre
Classes
Circuit

HIIT

Yoga

Pilates

Zumba

Dance

Spin
Opening Hours
Mon: Open 24 Hours
Tue: Open 24 Hours
Wed: Open 24 Hours
Thu: Open 24 Hours
Fri: Open 24 Hours
Sat: Open 24 Hours
Sun: Open 24 Hours
Membership Plans Available at Plus Fitness 24/7 Narellan
For $33.9 per fortnight, you can join Plus Fitness Narellan and have 24/7 access to their gym with no lock-in contract.
| Plan | Description | Price |
| --- | --- | --- |
| Flexi Membership – 24/7 access | Flexible No Lock In Contract | $33.9 - fortnightly |
About Plus Fitness 24/7 Narellan
Plus Fitness 24/7 Gym - Your Local Gym with over 200 convenient locations across Australia. No Lock In Contracts, Low Prices!
See what makes Plus Fitness 24/7 Narellan the Best Gym in Town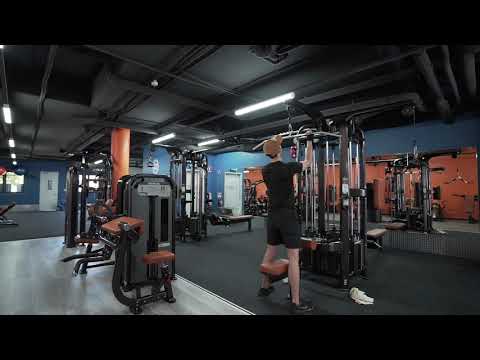 Experience the energy and community at Plus Fitness 24/7 Narellan.
See our certified trainers in action and get a feel for the energy and community at our gym. Watch now and come experience the difference at Narellan.
Get a feel for the lively and supportive atmosphere that sets Plus Fitness 24/7 Narellan apart from other gyms in Narellan
See firsthand the dedication and passion of our certified trainers as they guide and inspire members to reach their fitness goals.
Map
Enquire and view gym prices at Plus Fitness 24/7 Narellan. No obligation to join.
Customer Reviews
Plus Fitness Narellan is a great place to work out and get fit. Customers love the clean and inviting atmosphere, the friendly and knowledgeable staff, and the wide variety of equipment and classes available. The gym is well-maintained and has plenty of parking, making it easy to access. Plus Fitness Narellan also offers child care facilities, making it a great place for parents to work out.
Customers also appreciate the 24/7 access to the gym, allowing them to work out at any time that suits their schedule. The staff are accommodating and helpful, and are always willing to help members with any issues they may have. Plus Fitness Narellan also offers personal training options, allowing members to get the most out of their workouts.
Overall, customers are very satisfied with their experience at Plus Fitness Narellan. They appreciate the clean and inviting atmosphere, the friendly and knowledgeable staff, and the wide variety of equipment and classes available. Plus Fitness Narellan is a great place to work out and get fit, and customers are sure to have a great experience.
This is the original review. Note that in the response that came more than a year later, none of my concerns are addressed. The so claimed 24/7 access does not apply to me, even though I am a paying member. Due to an extremely busy schedule I cannot train any other time before 10pm, so training at a 24 hour gym is really the only type of centre that I can train at which unfortunately cancels my chances of training at superior gyms such as the Mount Annan Leisure Centre which is also within proximity to my place of residence. This week I was asked to wait outside in the cold for another member to let into the centre, and regrettably I had to endure three days where I waited for up to 30 minutes waiting for someone to arrive to train after 10pm. I contacted Jodie who advised me that Plus Fitness is experiencing issues with the security access door, and could not offer any other solution than just to simply wait in the cold or to train during staffed hours which does not suit my schedule and contradicts the Plus Fitness slogan of gym access 24/7. Today I was contacted by Anthony who responded to a note I left last night, after having waited 20 minutes in the cold, and stated that he had organised another access card for me to collect before 12pm. Again, having a busy schedule I drove to Plus Fitness Narellan to collect a card that also did not work, and the only solution given by an obnoxious, condescending, and rude Anthony was to simply train at home until they decide to fix the problem, or put the membership on hold or to cancel the membership all together. To eloquently express my unpleasant experiences at Plus Fitness, and exemplify the reason why I must persuade anyone from joining this second rate fitness franchise, I must acknowledge my time as a member at Plus Fitness Camden/Narellan since approximately 2016. Placing my contempt aside, I made the most of my time at Plus Fitness, however constantly feeling dissatisfied with the services provided by the franchise, that may potentially be the problem with the centre, as it is run by individuals who have no passion for the industry, but rather approach it from a commercial point of view with little to no regard for the paying members. I tried training at the Camden facility, but found it small and unwelcoming resembling more a bunker than a gym with mediocre equipment that more often than not was unable to be used due to faulty components. Another annoying aspect is the fact that the weights are never put back in place, and it is commonly the requirement of members to unload a machine prior to being able to use it, which is a troublesome and arduous experience particularly for members who struggle moving 200kgs in weight plates. Equally concerning is the fact that the vast majority of members who train do not use a gym towel, even before the recent pandemic which now is obviously a major issue. In spite of originally not having liked the facilities offered at Plus Fitness I decided to join as it is the closest 24 hour gym to my house. I found the equipment quality of bad calibre except for the very few HammerStrength and Life Fitness pieces, adjustable benches that are extremely heavy to move being a workout in itself just to move them from one place to another. The gyms (Camden/Narellan) are of poor quality, dirty, small, second class equipment and extremely unhelpful staff members without any regard for the members. I could most likely write a book about why not to train at Plus Fitness, but I will end it here, as just writing and cataloguing my unfortunate experience at this franchise is annoying me. DO NOT JOIN!!!! SAVE YOUR TIME & MONEY!!!!! THERE ARE FAR GREATER OPTIONS AROUND THE AREA, WHICH I HAVE NOW DISCOVERED.
Patrick Milo2
Absolutely pathetic customer service. My partner and i enquired about a trial and were never told about a break in staffed hours from 12:30-3:30pm were no one would be present at the gym. We spoke to head office next door and they said they could "give us a call later" because they arent staffed to let us in. How would that resolve anything? I made multiple calls to organize this trial.... She said No that she cannot allow us to trial on a Monday afternoon during our lunch break. We can't trial after work as we get home at 8pm. Absolutely ridiculous... i work in customer service and will never say No to a customer especially when you would have easily had 2 members sign up today. Goodluck running a business with staff like this.
Beth C