https://gymnearme.net.au/backend/profiles/get_profiles?gym_id=4142&include_types=1&include_classes=1&include_features=1&include_social=1&include_memberships=1&include_offers=1&include_hours=1&include_reviews=1&include_google_place=1&include_average_review=1&return_url=1
Category
Gym

Fitness Center

Health Centre
Classes
Circuit

HIIT

Yoga

Pilates

Zumba

Dance

Spin
Opening Hours
Mon: 05:30 - 23:00
Tue: 05:30 - 23:00
Wed: 05:30 - 23:00
Thu: 05:30 - 23:00
Fri: 05:30 - 23:00
Sat: 06:30 - 23:00
Sun: 06:30 - 23:00
Membership Plans Available at Plus Fitness 24/7 Northmead
For $37.9 per fortnight, you can join Plus Fitness Northmead and have access to the gym 24/7 with no lock-in contract.
| Plan | Description | Price |
| --- | --- | --- |
| Flexi Membership – 24/7 access | Flexible No Lock In Contract | $37.9 - fortnightly |
About Plus Fitness 24/7 Northmead
Plus Fitness 24/7 Gym - Your Local Gym with over 200 convenient locations across Australia. No Lock In Contracts, Low Prices!
At Plus Fitness Northmead gym we offer you an affordable and convenient gym environment to exercise in with 365 days a year access. At Plus Fitness Northmead you do not pay for the gym services you do not need or use allowing us to keep our gym membership prices low and our service and gym facility standards high! By joining Plus Fitness Northmead gym you instantly have access to over 200 Plus Fitness gyms across Australia and New Zealand.
See what makes Plus Fitness 24/7 Northmead the Best Gym in Town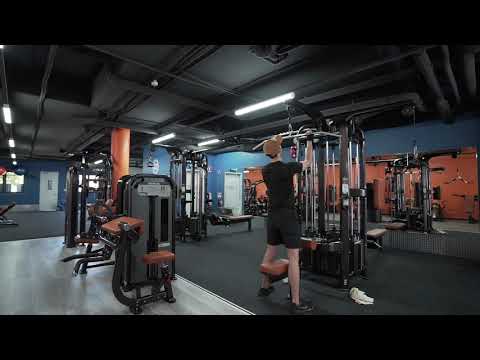 Experience the energy and community at Plus Fitness 24/7 Northmead.
See our certified trainers in action and get a feel for the energy and community at our gym. Watch now and come experience the difference at Northmead.
Get a feel for the lively and supportive atmosphere that sets Plus Fitness 24/7 Northmead apart from other gyms in Northmead
See firsthand the dedication and passion of our certified trainers as they guide and inspire members to reach their fitness goals.
Map
Enquire and view gym prices at Plus Fitness 24/7 Northmead. No obligation to join.
Customer Reviews
Plus Fitness Northmead is a great gym that offers a wide range of facilities and features to its members. Customers love the friendly staff, the variety of classes, and the personal training options available. The gym is clean and well-maintained, with new equipment and a great atmosphere. Plus Fitness Northmead also offers free child minding and no lock-in contracts, making it a great choice for those looking for a flexible gym membership.
Customers also appreciate the free fitness assessments and the fact that members have access to over 180 clubs throughout Australia and New Zealand. The gym also has a great sound system and the classes are held at the perfect time for many people's schedules. Plus Fitness Northmead also has a carpark on site, making it easy to access.
Overall, customers are very pleased with Plus Fitness Northmead and the services it provides. The staff are friendly and helpful, the equipment is new and well-maintained, and the classes are varied and enjoyable. Plus Fitness Northmead is a great choice for those looking for a gym with flexible membership options and great facilities.
My wife is in hospital and is just out of intensive care. She called your Northmead Gym today to ask for a two week pause on her monthly payments. We have been members for many years. The lady she spoke to said she would have to come in to sign a form to do this. If this is your policy, I suggest that you change it.
Philip Newall
Very old equipment, dust is everywhere, no obligation to use towels, toilets are always filthy. It is totally wasting money, during your training there is no one to instruct you. Trainers in group classes do not care about proper warm up and cool down, they cause injuries with lack of knowledge. Manager is so rude and not helpful.
Ellie Kheirkhah
A good gym for basic work outs and a few good group classes. The facilities are quite old and basic, and when there is heavy rain the roof leaks in the class room and in the stairway - which are definite hazards! This will often go on for weeks if rain persists. The bathrooms are not great either and only one shower. That said, fees are fairly cheap & no lock in contract, so you get what you pay for. I've been happy enough going here most of the time.
Jasmine McDonald