https://gymnearme.net.au/backend/profiles/get_profiles?gym_id=4156&include_types=1&include_classes=1&include_features=1&include_social=1&include_memberships=1&include_offers=1&include_hours=1&include_reviews=1&include_google_place=1&include_average_review=1&return_url=1
Category
Gym

Fitness Center

Health Centre
Classes
Circuit

HIIT

Yoga

Pilates

Zumba

Dance

Spin
Opening Hours
Mon: 08:30 - 00:00
Tue: 08:30 - 00:00
Wed: 08:30 - 00:00
Thu: 08:30 - 00:00
Fri: 08:30 - 12:30
Sat: 08:30 - 12:30
Sun: Closed
Membership Plans Available at Plus Fitness 24/7
For $35.9 per fortnight, you can join Plus Fitness Seven Hills and have access to the gym 24/7 with no lock-in contract.
| Plan | Description | Price |
| --- | --- | --- |
| Flexi Membership – 24/7 access | Flexible No Lock In Contract | $35.9 - fortnightly |
About Plus Fitness 24/7
Plus Fitness 24/7 Gym - Your Local Gym with over 200 convenient locations across Australia. No Lock In Contracts, Low Prices!
At Plus Fitness Seven Hills facility we offer you an affordable and convenient gym environment to exercise in with 365 days a year access. At Plus Fitness Seven Hills you do not pay for the gym services you do not need or use allowing us to keep our gym membership prices low and our service and gym facility standards high! By joining Plus Fitness Seven Hills you instantly have access to over 200 plus fitness gyms across Australia and New Zealand.
See what makes Plus Fitness 24/7 the Best Gym in Town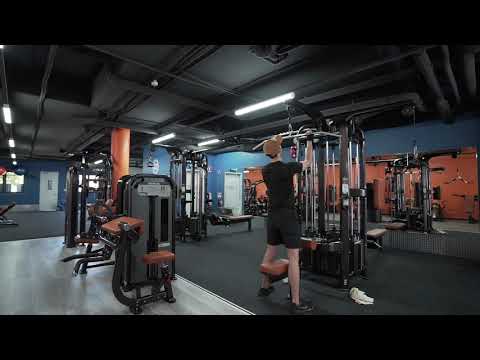 Experience the energy and community at Plus Fitness 24/7.
See our certified trainers in action and get a feel for the energy and community at our gym. Watch now and come experience the difference at Seven Hills.
Get a feel for the lively and supportive atmosphere that sets Plus Fitness 24/7 apart from other gyms in Seven Hills
See firsthand the dedication and passion of our certified trainers as they guide and inspire members to reach their fitness goals.
Map
Enquire and view gym prices at Plus Fitness 24/7. No obligation to join.
Customer Reviews
Plus Fitness Seven Hills is a great gym that offers a wide range of facilities and features to its customers. The gym is spacious and well-equipped with a variety of machines and cardio equipment, and the atmosphere is perfect for exercise. Customers have praised the staff for being friendly and welcoming, and the gym is open 24/7, making it easy to fit in a workout at any time. Plus Fitness Seven Hills also offers free fitness assessments, free time holds, and no lock-in contracts, making it a great value for money.
The gym is kept clean and well-maintained, and customers have praised the hand sanitiser, cleaning wipes, and spray that are available. The parking is also convenient and easy to access. Customers have also mentioned that the gym has a great range of virtual classes, and that the staff are helpful and knowledgeable.
Overall, customers have had a great experience at Plus Fitness Seven Hills. They have praised the staff, the facilities, the equipment, the security, the parking, the opening times, the types of classes, the personal training options, and the exercise and training protocols. Customers have also mentioned that the gym is spacious, well-equipped, and clean, and that it offers great value for money.
Very bad experience with the staff and unprofessional behaviour totally. I joined the gym 3 weeks back and staff behaviour is so unwelcoming and complementary PT session was never offered and kept delayed every week by saying some stupid reasons. Totally unprofessional and unacceptable. Never recommend this gym to anyone
Mallikarjun Avireni
The key they gave me couldn't open the door, so when I buzz, no one opened the door. I talked to them they said we have plan to fix it, I said when. They said in the future . And they didn't change my key as well. The receptionist said it is not our problem. I canceled my contract, don't recommend to anyone.
Hamed Mo