https://gymnearme.net.au/backend/profiles/get_profiles?gym_id=4168&include_types=1&include_classes=1&include_features=1&include_social=1&include_memberships=1&include_offers=1&include_hours=1&include_reviews=1&include_google_place=1&include_average_review=1&return_url=1
Category
Gym

Fitness Center

Health Centre
Classes
Circuit

HIIT

Yoga

Pilates

Zumba

Dance

Spin

Boxing

Group Classes
Opening Hours
Mon: Open 24 Hours
Tue: Open 24 Hours
Wed: Open 24 Hours
Thu: Open 24 Hours
Fri: Open 24 Hours
Sat: Open 24 Hours
Sun: Open 24 Hours
Membership Plans Available at Plus Fitness 24/7 truganina
With the Flexi Membership at Plus Fitness Truganina, you can access the gym 24/7 with no lock-in contract for just $29.90 per fortnight.
| Plan | Description | Price |
| --- | --- | --- |
| Flexi Membership – 24/7 access | Flexible No Lock In Contract | $29.9 - fortnightly |
About Plus Fitness 24/7 truganina
Plus Fitness 24/7 Gym - Your Local Gym with over 200 convenient locations across Australia. No Lock In Contracts, Low Prices!
24 hour gym. Virtual classes. Trainer led classes. Personal training
See what makes Plus Fitness 24/7 truganina the Best Gym in Town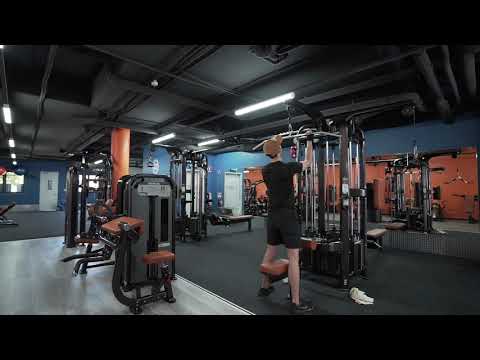 Experience the energy and community at Plus Fitness 24/7 Truganina.
See our certified trainers in action and get a feel for the energy and community at our gym. Watch now and come experience the difference at TRUGANINA.
Get a feel for the lively and supportive atmosphere that sets Plus Fitness 24/7 Truganina apart from other gyms in TRUGANINA
See firsthand the dedication and passion of our certified trainers as they guide and inspire members to reach their fitness goals.
Map
Enquire and view gym prices at Plus Fitness 24/7 truganina. No obligation to join.
Customer Reviews
Plus Fitness Truganina is a great gym for anyone looking to get fit and healthy. Customers love the clean and spacious environment, the friendly staff, and the ample equipment available. The gym is conveniently located close to home and is never too busy, so customers can get a good workout without having to wait for equipment. Plus Fitness Truganina also offers no lock in contracts and affordable prices, making it a great choice for anyone looking for a gym.
Customers also appreciate the 24/7 availability of the gym, which makes it easy to fit a workout into their busy schedules. The staff are highly skilled and always willing to help with any queries. Plus Fitness Truganina also offers a variety of classes and personal training options, so customers can find something that suits their needs.
The gym is also well-maintained and clean, with tissues always provided. Plus Fitness Truganina also has ample parking and good security, so customers can feel safe and secure while they work out. All in all, Plus Fitness Truganina is a great choice for anyone looking for a gym that offers a great atmosphere, friendly staff, and plenty of equipment.
current member but now looking for other gyms to move to. gym equipment layout is crowded and cardio machines either squeak or don't work, not to mention they're out of date compared to every other gyms I've been too. currently only three of the five treadmills work and one of them is a hazard, if you want to do anything more than a jog. have told staff and sent emails to truganina plus fitness have heard nothing in weeks Sincerely a sad member ☹️
SEAN Schumacher
A very good gym with good equipment and nice atmosphere. It has good amenities and also enough space for everyone to work out without bumping to each other. As it has 24/7 availability it is flexible for everyone who works round the clock like me. And it is located in a prime location with basic necessities to be available. Overall I would recommend to come and give a try and the staff here is also welcoming and helpful with every query.
keethineedi bharath