https://gymnearme.net.au/backend/profiles/get_profiles?gym_id=4235&include_types=1&include_classes=1&include_features=1&include_social=1&include_memberships=1&include_offers=1&include_hours=1&include_reviews=1&include_google_place=1&include_average_review=1&return_url=1
Category
Gym

Fitness Center

Health Centre
Classes
Group Classes

Yoga

Pilates

Zumba

Dance

Spin

Boxing
Opening Hours
Mon: Open 24 Hours
Tue: Open 24 Hours
Wed: Open 24 Hours
Thu: Open 24 Hours
Fri: Open 24 Hours
Sat: Open 24 Hours
Sun: Open 24 Hours
Membership Plans Available at Snap Fitness 24/7 Brisbane City
Month to Month Membership: Pay $39.90 every two weeks and get access to all Snap Fitness Clubs and classes at participating clubs, with no lock in contract.
12 Month Membership: Pay $35.90 every two weeks and get access to all Snap Fitness Clubs and classes at participating clubs, with a 12 month contract.
| Plan | Description | Price |
| --- | --- | --- |
| Month to Month Membership | | $39.90 - fortnightly |
| 12 Month Membership | | $35.90 - fortnightly |
About Snap Fitness 24/7 Brisbane City
Join Snap Fitness 24/7 gym in Hong Kong and get unlimited access to over 2,500 Snap Fitness centres worldwide! Month-to-month payment, no fixed term contract. Learn more!
Welcome to Snap Fitness Brisbane City! We're here for you 24/7 to help you move your body and your mood; with a strong member community; and a super supportive team. Members get access to the best range of cardio, strength, and functional training equipment; free classes, personal training; plus a member app to help set your own goals and track your progress. Call or click today to learn more and join the Snap Fitness community, or come see us in club! Visit our website to see staffed hours.
See what makes Snap Fitness 24/7 Brisbane City the Best Gym in Town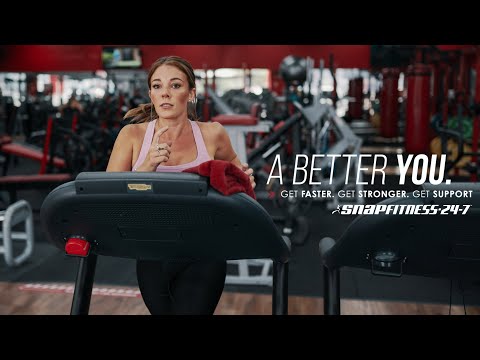 Experience the energy and community at Snap Fitness 24/7 Brisbane City.
See our certified trainers in action and get a feel for the energy and community at our gym. Watch now and come experience the difference at Brisbane.
Get a feel for the lively and supportive atmosphere that sets Snap Fitness 24/7 Brisbane City apart from other gyms in Brisbane
See firsthand the dedication and passion of our certified trainers as they guide and inspire members to reach their fitness goals.
Map
Enquire and view gym prices at Snap Fitness 24/7 Brisbane City. No obligation to join.
Customer Reviews
Snap Fitness Brisbane City is a great gym for those who work in the city. Customers love the convenient location, friendly staff, and clean equipment. The gym is divided into three rooms, each with its own range of equipment, and the manager, Sarah, is always friendly and helpful. The atmosphere is relaxed and inviting, and the lighting is quality.
The gym also offers personal training options, with trainers who are highly recommended by customers. The gym has a great vibe, with a nightclub feel, and the staff are super friendly and accommodating. There is a huge area with 8 squat racks and 3 deadlift platforms, and a separate boxing and functional training room.
The gym also offers free apples at the front desk, and wifi, although it is rate-limited. The toilets are sometimes clogged, and the mobile data connection is poor, but overall customers are very happy with the gym. They appreciate the friendly staff, the clean equipment, and the spacious area.
Just joined recently. Worked out around night time on friday, and forgot my wallet back there. And the next monday, someone handed it back to front desk. What a legend! I feel safe and very well welcomed here! Had a chance to meet with Jarred and Natasha, they were so helpful and friendly! Hands down! keep up the good work guys! 5/5! and highly recommend!
Endiy Loh
Sustained quite a horrible injury at this gym. For obvious reasons, due to the injury, I stopped attending and also stopped paying the weekly fee. Ridiculously, they are pursuing legal action against me for not technically canceling my membership, despite the fact that I did not attend from the date of injury - which is when my payments stopped. Truly disgusting business practise. Predatory and unethical. Anytime fitness is just down the road and has better facilities.
Luke Rosser
They don't care about members only money. I missed my gym payment due to not being able to pay as I lost my job to COVID and when I told them I'll pay in 2 weeks they still went ahead and forwarded my balance to a credit debt agency as the credit agency emailed me asking to pay the full amount to snap fitness, basically trying to force me to pay or have bad credit history. All I needed was 2 weeks to pay! I found a better gym and won't be paying a cent to them now.
Jensen Achilles