https://gymnearme.net.au/backend/profiles/get_profiles?gym_id=4289&include_types=1&include_classes=1&include_features=1&include_social=1&include_memberships=1&include_offers=1&include_hours=1&include_reviews=1&include_google_place=1&include_average_review=1&return_url=1
Category
Gym

Fitness Center

Health Centre
Classes
Group Classes

Strength Training

Fitness Center

Pilates
Opening Hours
Mon: Open 24 Hours
Tue: Open 24 Hours
Wed: Open 24 Hours
Thu: Open 24 Hours
Fri: Open 24 Hours
Sat: Open 24 Hours
Sun: Open 24 Hours
Membership Plans Available at Snap Fitness 24/7 Flagstone
Snap Fitness Flagstone offers two membership options: a month-to-month membership with no lock-in contract and 24/7 access to all Snap Fitness clubs, including classes at participating clubs, for $39.15 per fortnight; or a 12-month membership with 24/7 access to all Snap Fitness clubs, including classes at participating clubs, for $35.15 per fortnight.
| Plan | Description | Price |
| --- | --- | --- |
| Month to Month Membership | | $39.15 - fortnightly |
| 12 Month Membership | | $35.15 - fortnightly |
About Snap Fitness 24/7 Flagstone
Join Snap Fitness 24/7 gym in Hong Kong and get unlimited access to over 2,500 Snap Fitness centres worldwide! Month-to-month payment, no fixed term contract. Learn more!
Welcome to Snap Fitness Flagstone! We're here for you 24/7 to help you move your body and your mood; with a strong member community; and a super supportive team. Members get access to the best range of cardio, strength, and functional training equipment; free classes, personal training; plus a member app to help set your own goals and track your progress. Call or click today to learn more and join the Snap Fitness community, or come see us in club! Visit our website to see staffed hours.
See what makes Snap Fitness 24/7 Flagstone the Best Gym in Town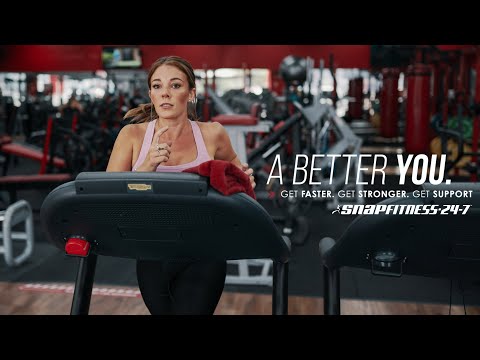 Experience the energy and community at Snap Fitness 24/7 Flagstone.
See our certified trainers in action and get a feel for the energy and community at our gym. Watch now and come experience the difference at Flagstone.
Get a feel for the lively and supportive atmosphere that sets Snap Fitness 24/7 Flagstone apart from other gyms in Flagstone
See firsthand the dedication and passion of our certified trainers as they guide and inspire members to reach their fitness goals.
Map
Enquire and view gym prices at Snap Fitness 24/7 Flagstone. No obligation to join.
Customer Reviews
Snap Fitness Flagstone is a great gym for anyone looking to start or continue their fitness journey. Customers love the friendly and welcoming atmosphere, with staff that are always willing to help and offer advice. The gym is always clean and well maintained, with a wide range of equipment and classes to choose from. Customers have praised the staff for their knowledge and support, as well as the family-style atmosphere. The crèche is also a great option for families who want to achieve their fitness goals.
The opening times are convenient, with the gym being open 24/7, and the parking is secure. Customers have also commented on the Italian-made equipment, which is always in great condition. Personal training options are available, with trainers who are knowledgeable and experienced. The free classes are also a great way to build up fitness, and the people attending are very supportive of new arrivals.
Overall, customers have had a great experience at Snap Fitness Flagstone and would highly recommend it to anyone looking to join a gym. The staff are friendly and accommodating, the atmosphere is positive and the equipment is of great quality. It is the perfect place to start or continue your fitness journey.
Only started back in December with a lot of apprehension I would drop out very quickly, however the atmosphere within the gym is so relaxed, the team are very friendly I found myself on a momentum to keep coming back. My main purpose was to attend the free classes on a morning to build up my fitness. Dan their PT is great with pushing you to your goals and then to your potential. I'm happy with my progress and slowly building up my strength. The people attending classes are so supportive with new arrivals and I found this to help with my initial anxiety with turning up to a new place. Highly recommend Snap Fitness at flagstone if you're looking for a friendly place to start your fitness journey or strengthen what you already have!
Gemma Farr
Can't beat a gym that's less then 10 mins from home. It's small but thats okay and suits me perfectly. It's not too busy, not at all judgey so I can go to the gym and work out as a newbie and not feel self conscious. It's so clean and the equipment is in great condition. Only thing that would be better would be a female PT and earlier morning classes. Otherwise it's best gym I've been to.
Poppy Girl
Such a positive vibe when walking into the gym and being greeted with a smile from the manager. The gym is always neat and tidy and definitely feels like a home environment! Can't fault the staff whatsoever, they are all very understanding and accommodating! I would highly recommend snap fitness flagstone for anyone looking to sign up to a gym!
Breannah Dodson
I joined Snap Fitness Flagstone 6 weeks ago. With several gyms in the area to choose from I am so glad I decided to come to this gym. The staff are so incredibly encouraging, so friendly, helpful & knowledgeable. This is hands down the most supportive gym I know of. Love your work guys & girls!!!
Michelle Powell