https://gymnearme.net.au/backend/profiles/get_profiles?gym_id=4303&include_types=1&include_classes=1&include_features=1&include_social=1&include_memberships=1&include_offers=1&include_hours=1&include_reviews=1&include_google_place=1&include_average_review=1&return_url=1
Category
Gym

Fitness Center

Health Centre
Opening Hours
Mon: Open 24 Hours
Tue: Open 24 Hours
Wed: Open 24 Hours
Thu: Open 24 Hours
Fri: Open 24 Hours
Sat: Open 24 Hours
Sun: Open 24 Hours
Membership Plans Available at Snap Fitness 24/7 Helensvale
For $35.15 per fortnight, you can join Snap Fitness Helensvale and have access to all Snap Fitness Clubs, 24/7, with no lock in contract and classes included at participating clubs.
| Plan | Description | Price |
| --- | --- | --- |
| Month to Month Membership | | $35.15 - fortnightly |
About Snap Fitness 24/7 Helensvale
Join Snap Fitness 24/7 gym in Hong Kong and get unlimited access to over 2,500 Snap Fitness centres worldwide! Month-to-month payment, no fixed term contract. Learn more!
Welcome to Snap Fitness Helensvale! We're here for you 24/7 to help you move your body and your mood; with a strong member community; and a super supportive team. Members get access to the best range of cardio, strength, and functional training equipment; free classes, personal training; plus a member app to help set your own goals and track your progress. Call or click today to learn more and join the Snap Fitness community, or come see us in club! Visit our website to see staffed hours.
See what makes Snap Fitness 24/7 Helensvale the Best Gym in Town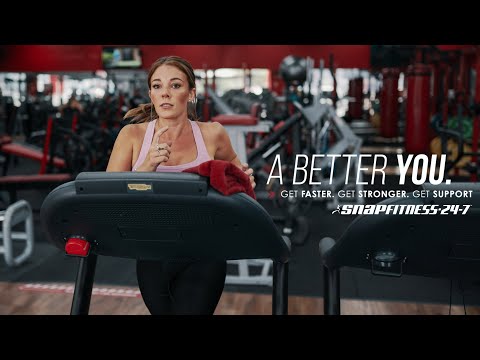 Experience the energy and community at Snap Fitness 24/7 Helensvale.
See our certified trainers in action and get a feel for the energy and community at our gym. Watch now and come experience the difference at Helensvale.
Get a feel for the lively and supportive atmosphere that sets Snap Fitness 24/7 Helensvale apart from other gyms in Helensvale
See firsthand the dedication and passion of our certified trainers as they guide and inspire members to reach their fitness goals.
Map
Enquire and view gym prices at Snap Fitness 24/7 Helensvale. No obligation to join.
Customer Reviews
Snap Fitness Helensvale is a great gym for anyone looking to get fit and stay healthy. Customers love the friendly and welcoming atmosphere, with the staff always ready to help and answer any questions. The club manager, Sam, and the personal trainer, Veronika, are both incredibly knowledgeable and encouraging, helping customers to reach their fitness goals. The gym is always clean and well maintained, with a great selection of equipment and classes available. Customers also appreciate the convenient location and ample parking.
The gym has a great community feel, with members being very friendly and supportive of each other. Customers also love the fact that the gym is never too crowded, allowing them to focus on their workouts without having to wait for equipment. The trainers are a wealth of knowledge and are always willing to help with technique and form.
Overall, customers are very happy with their experience at Snap Fitness Helensvale. They appreciate the friendly and encouraging atmosphere, the clean and well maintained facilities, and the knowledgeable staff. Customers also love the convenient location and ample parking. With the great selection of equipment and classes available, Snap Fitness Helensvale is the perfect place to get fit and stay healthy.
I go to Helensvale Snap when I want to avoid the crowd at my local one or shop at the Westfield. It would have been my favourite gym to go to if they have a proper hip thrust area, more complete equipments (they don't have lying leg curls and hip abduct/adductors), & easy parking outside the gym (early morning isn't an issue, but in afternoon, it could take me 10mins+ to find parking). Staff and most members are friendly. Very nice vibe, not too crowded - I remember there were only 2 occassions in the last 3 years (both were in the afternoon) where I had to wait for a machine or the gym was packed. Cleanliness is satisfactory. Wipe stations are appropriately located and always full. The only time the bathrooms ever bothered me was when I was pregnant - whatever products they use to clean didn't go well with my sense of smell
TantraK
Love the team at Snap Fitness Helensvale! Started coming after COVID. Gym is always clean, equipment is great and I've got everything I need do all of my workouts. Sam the manager plus Veronika the PT is encouraging, helpful and keeps me motivated. Friendly, not at all intimidating or pretentious - the complete opposite experience to what I often find from other chain gyms. Also a great place when I just want to quickly churn through my workout, zone in, get it done and run off to work straight after. Great place, convenient location, great staff!
Kei Nakayama
Signed up to Snap Fitness last week and am so far loving over the previous gym established I was going to. Worth the membership! Gym is clean and the facilities are good and well maintained. Club manager Sam is also a top notch bloke. Made the sign up simple as and he's a wealth of fitness knowledge. Will recommend!
Silvio De Vito
Pretty decent gym, large variety of equipment for it's small-ish size very clean too. It has showers, toilets & a water fountain there's also a small outside area only accessable during staffed hours. Can get pretty busy so I'd recommend coming at a less popular hour if you want to make sure you can access what you want without having to wait for someone else to get off.
Josh
Been going to this gym for close to two years and it's hands down the best gym I've ever trained at! Sam the manager made me feel like family from day dot, the equipment is always clean and well maintained plus there's always some good music playing to work out! Couldn't ask for a better gym
Kobi Hugen