https://gymnearme.net.au/backend/profiles/get_profiles?gym_id=4347&include_types=1&include_classes=1&include_features=1&include_social=1&include_memberships=1&include_offers=1&include_hours=1&include_reviews=1&include_google_place=1&include_average_review=1&return_url=1
Category
Gym

Fitness Center

Health Centre
Classes
Yoga

Pilates

Boxing

Martial Arts
Opening Hours
Mon: 10:30 - 19:30
Tue: 10:30 - 19:30
Wed: 10:30 - 19:30
Thu: 10:30 - 19:30
Fri: 09:00 - 13:00
Sat: 09:00 - 15:00
Sun: Closed
Membership Plans Available at Snap Fitness 24/7 Mt. Lawley
For $35.90 every two weeks, you can join Snap Fitness Mt. Lawley and have access to all Snap Fitness Clubs, classes, and 24/7 access with no lock-in contract.
| Plan | Description | Price |
| --- | --- | --- |
| Month to Month Membership | | $35.90 - fortnightly |
About Snap Fitness 24/7 Mt. Lawley
Join Snap Fitness 24/7 gym in Hong Kong and get unlimited access to over 2,500 Snap Fitness centres worldwide! Month-to-month payment, no fixed term contract. Learn more!
At Snap Fitness Mt Lawley, we will be offering a member experience and facilities that surpass our competitors, an atmosphere that makes you want to be here, pushing yourself to train hard to reach your goals.
With so much to on offer, you won't be disappointed;
- Technogym equipment from Italy. Supplier to the last 5 Olympic Games with training management software that tracks your training history, results, goals and so much more.
- Functional training area with battle ropes, sled track and rig.
- Generous range of pin loaded equipment
- Fully equipped Free Weights and Functional training zone with Dumbbells up to 60kg, Olympic Bars, Squat Racks and the list goes on.
& Much More!
See what makes Snap Fitness 24/7 Mt. Lawley the Best Gym in Town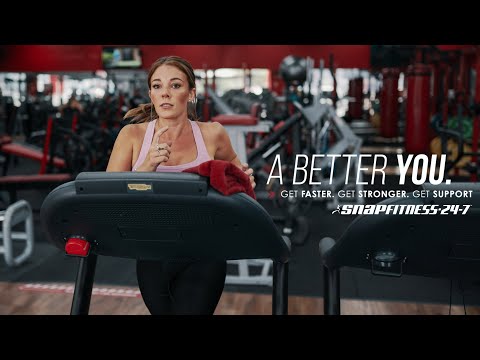 Experience the energy and community at Snap Fitness 24/7 Mt. Lawley.
See our certified trainers in action and get a feel for the energy and community at our gym. Watch now and come experience the difference at Mt. Lawley.
Get a feel for the lively and supportive atmosphere that sets Snap Fitness 24/7 Mt. Lawley apart from other gyms in Mt. Lawley
See firsthand the dedication and passion of our certified trainers as they guide and inspire members to reach their fitness goals.
Map
Enquire and view gym prices at Snap Fitness 24/7 Mt. Lawley. No obligation to join.
Customer Reviews
Snap Fitness Mt. Lawley is a great gym that offers a wide range of facilities, features, and services. Customers love the friendly staff, the clean and well-maintained equipment, the spacious gym, and the variety of group fitness classes. The manager, Jake, is highly praised for his professionalism, friendliness, and willingness to help. He sets the tone for the environment and makes sure that everyone feels comfortable and welcome. The gym also offers personal training sessions and body scans, and the trainers are some of the best you'll meet. Customers also appreciate the air conditioning, which makes it comfortable to work out in. The gym is also praised for its cleanliness and tidiness, and the staff are always friendly and helpful. Customers also appreciate the affordability of the gym and the fact that there is plenty of floor space to do whatever workout you feel like doing. All in all, Snap Fitness Mt. Lawley is a great gym that offers a wide range of facilities, features, and services that customers love.
Would be a much better gym if the staff were better at the maintenance and cleaning of the gym. I feel Equipment is constantly broken (mostly cardio). Water fountain has been broken for probably two weeks, cleaning wipes are ALWAYS out of stock with no alternate ways to clean down machines, during Covid this is not okay. Small changes and better attention to detail required
Jennifer Jones
When my local gym was closed for renovations I was recommended to visit Snap Fitness in Mount Lawley. The staff are super helpful, friendly and professional plus there are wide range of fitness options available. Despite my local gym reopening a month ago, I haven't returned and now travel the extra 10 mins. Thank you again to the amazing team at Snap Fitness. The only possible issue I've had was trying to find parking but that was only one occasion during a special event on Beaufort St. Apart from that I encourage all of my friends and family within the area to attend, no matter their level of fitness.
Eric Paul Goldie
THE BEST gym in Perth! This gym in Mount Lawley is bloody huge and has plenty of space and equipment to work out comfortably anytime of day. Don't be fooled thinking this is a cheap loveless chain gym as this is not the case. It's super clean! They regularly clean and do a deep clean every Monday. If you're new to gyms don't take this for granted as some in the area are terrible. Showers are great too and plenty of change rooms if ya need them. Have been a member for nearly 2 years and the culture of the gym is great. No crazy people or turbo bros around. Seen a few of the local bartenders and other local business staff using the place which is a good sign of the vibe.The customer fridge in the kitchen is a welcome bonus and It's great having access to a balcony if I need to take a call. I also like how I can use Snap gyms in Melbourne (And everywhere) at no extra cost when away for work. All the dumbbells are in great condition with about 6 benches and I've only ever seen one machine break which was fixed within days. Seriously super happy with this place and their great friendly staff that are always fast on their feet to help or fix an issue. Lastly watch out for the free burgers and tacos they hand out from time to time.. they'll ruin ya sets for the day ;) A++ (Haven't done a class before but they seem popular with it's own private room away from the weights)
Paul M