https://gymnearme.net.au/backend/profiles/get_profiles?gym_id=4440&include_types=1&include_classes=1&include_features=1&include_social=1&include_memberships=1&include_offers=1&include_hours=1&include_reviews=1&include_google_place=1&include_average_review=1&return_url=1
Category
Gym

Fitness Center

Health Centre
Classes
Boxing

Yoga

Strength Training
Opening Hours
Mon: Open 24 Hours
Tue: Open 24 Hours
Wed: Open 24 Hours
Thu: Open 24 Hours
Fri: Open 24 Hours
Sat: Open 24 Hours
Sun: Open 24 Hours
Membership Plans Available at Stepz Fitness Thornleigh
Standard Flexi membership starts from $16.95 per week and includes 24/7 access, 1 free PT/Gym program, QuickStart Programs™ and 1 free body scan. Platinumn Flexi membership starts from $29.95 per week and includes 24/7 access, unlimited group training, 1 free PT/Gym program, QuickStart Programs™ and 1 free body scan. Stepz Saver membership starts from $14.95 per week and includes 24/7 access, 1 free PT/Gym program, QuickStart Programs™ and 1 free body scan.
| Plan | Description | Price |
| --- | --- | --- |
| Standard Flexi | | $16.95 - weekly |
| Platinumn Flexi | | $29.95 - weekly |
| Stepz Saver | | $14.95 - weekly |
About Stepz Fitness Thornleigh
Stepz Fitness Australia 24/7 Gym - Your Local Gym with over 16 convenient locations in QLD and NSW. Flexible memberships, Non- Intimidating, Competitive Prices!
We are open 24/7 with the latest high-tech gym equipment. We also offer the best functional group-training classes in the area. Our unique group fitness classes will keep your workout routine fun, exciting, and most of all – enjoyable.
If you are already a "gym junkie" and are fit – we will challenge you beyond your limits.
Stepz Fitness Thornleigh is the closest gym to those living in Westleigh, West Pennant Hills, Pennant Hills, Normanhurst and Beecroft.
See what makes Stepz Fitness Thornleigh the Best Gym in Town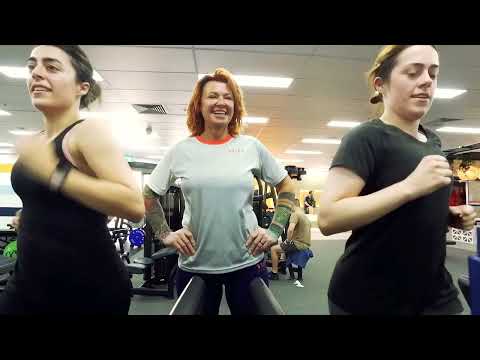 Experience the energy and community at Stepz Fitness Thornleigh.
See our certified trainers in action and get a feel for the energy and community at our gym. Watch now and come experience the difference at Thornleigh.
Get a feel for the lively and supportive atmosphere that sets Stepz Fitness Thornleigh apart from other gyms in Thornleigh
See firsthand the dedication and passion of our certified trainers as they guide and inspire members to reach their fitness goals.
Map
Enquire and view gym prices at Stepz Fitness Thornleigh. No obligation to join.
Customer Reviews
Stepz Fitness Thornleigh is a great gym that offers a friendly and welcoming atmosphere for all fitness levels. The staff are incredibly kind and helpful, and the gym is kept in perfect condition with strict hygiene and cleaning protocols. The gym is well equipped with a variety of machines and functional equipment, and the classes are varied and suitable for all abilities. Customers have praised the staff for their professionalism and passion for fitness, as well as the cleanliness of the gym and the convenience of the parking. The gym also offers 24/7 access and shower facilities, and members have the option of suspending their fees while on holidays or away due to illness. Customers have also commented on the friendly atmosphere and the community spirit, as well as the competitive and good value membership plans. Stepz Fitness Thornleigh is the perfect place to get fit and have fun, and customers highly recommend it.
I was a yoga teacher here and Yvonne and Michael were 2 wonderful ladies who organised everything so well. They were supportive and great leaders. The students in my classes were great and very motivated and conscious of their heath and well-being which shows the personal care taken by the instructors and leaders. It is a welcoming and supportive environment. It has many great classes to try out. Highly recommended!
Skandakumar Kumarasingam
This is such a lovely gym. Very friendly, both staff and other gym goers. It's never overly packed and gets quiet if you go after 7pm. As a female feel comfortable in the environment. They have plenty of equipment and machines, all in good working condition. They also have bathroom facilities if you want to shower/change. It's also kept very clean. Only reason it didn't get 5 stars is because I wish they had more evening classes, including the weekends, because I finish work at 5pm and by the time I make it to the gym at 7pm, no more classes and I pay monthly premiums for the classes. Otherwise a great gym that I'm proud to be a member of
Farzana Patel
Great friendly trainers, all of them know my name and look out for me. Love the small group training sessions, its like having a personal trainer without the price tag! The gym is clean and as mum of two small kids the classes work in with my day and it's such a great gym for getting back into fitness after babies and feeling good about yourself. Highly recommend!
Alexandra Manners
Stepz Thornleigh is conveniently located with ample parking. When you walk in, it's clean and very inviting.Signing up was quick and easy and options of memberships were well explained. Yvonne is passionate about keeping fit and for me personally, the variety of classes is amazing. They have early morning, midday and evening sessions and the trainers are very professional in their approach. The gym is accessible 24/7 and the shower facilities are pretty good! Glad I signed up and have been truly enjoying the classes!
Charu Parbhoo