https://gymnearme.net.au/backend/profiles/get_profiles?gym_id=5134&include_types=1&include_classes=1&include_features=1&include_social=1&include_memberships=1&include_offers=1&include_hours=1&include_reviews=1&include_google_place=1&include_average_review=1&return_url=1
Classes
HIIT

Yoga

Pilates

Spin

Boxing
Opening Hours
Mon: 06:00 - 19:00
Tue: 06:00 - 20:00
Wed: 06:00 - 19:00
Thu: 06:00 - 20:00
Fri: 00:00 - 10:00
Sat: 00:00 - 10:30
Sun: 00:00 - 11:30
Membership Plans Available at The HIIT Factory Mornington
Couples Legend: $69 per week for 50 sessions per month, full access to meal plans, recipes, and on-demand workouts.
Legend: $45 per week for 30 sessions per month, full access to meal plans, recipes, and on-demand workouts.
Rockstar: $36 per week for 12 sessions per month, basic access to meal plans, recipes, and on-demand workouts.
| Plan | Description | Price |
| --- | --- | --- |
| COUPLES LEGEND | $259.99 PER MONTH ($119.99 BILLED FORTNIGHTLY) | $69 - weekly |
| LEGEND | $149.99 PER MONTH ($69.99 BILLED FORTNIGHTLY) | $45 - weekly |
| ROCKSTAR | $129.99 PER MONTH ($59.99 BILLED FORTNIGHTLY) | $36 - weekly |
About The HIIT Factory Mornington
Welcome to the revolution in fast fitness. Let's get started!
Join the fast fitness revolution at At The HIIT Factory Mornington! 30 minutes high intensity interval training with a twist fun, banging tunes and crazy vibes! 18 plus formats to choose from, we have something for everyone, with additional fitness classes such as spin classes to join in.
All fitness levels welcome! Beginners to elite fitness all exercises will be given with modifications and progressions!
It's NOT just a gym its a COMMUNITY!
See what makes The HIIT Factory Mornington the Best Gym in Town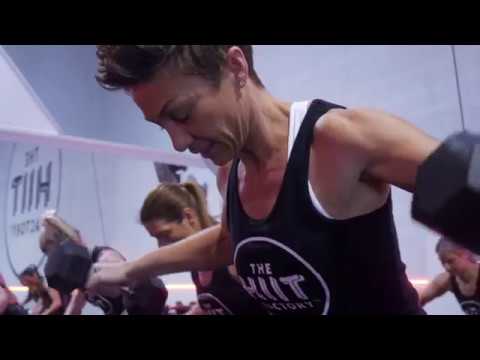 Experience the energy and community at The HIIT Factory Mornington.
See our certified trainers in action and get a feel for the energy and community at our gym. Watch now and come experience the difference at MORNINGTON.
Get a feel for the lively and supportive atmosphere that sets The HIIT Factory Mornington apart from other gyms in MORNINGTON
See firsthand the dedication and passion of our certified trainers as they guide and inspire members to reach their fitness goals.
Map
Enquire and view gym prices at The HIIT Factory Mornington. No obligation to join.
Customer Reviews
The HIIT Factory Mornington is a fantastic gym that offers a wide range of classes and personal training options. Customers love the supportive and motivating atmosphere that Ana, the owner and trainer, has created. She is passionate about helping her members reach their goals and is always pushing them to do their best. The 30 minute classes are perfect for busy schedules and the option to livestream classes or bring the kids along is a great bonus. Customers have praised the variety of workouts, from Pilates and Yoga to high intensity cardio, spin and weight training. They also love the community that Ana has built, with everyone motivating and encouraging each other. The HIIT Factory Mornington is a great place to work out and improve your physical and mental health.
Love training at the HIIT Factory, it's so easy and convenient especially when you have young kids. Whether you take them to class or join in via zoom. There is so much variety with the classes you never get bored. Ana the trainer is excellent at motivating you and she just gets it as she's a mum herself! If you're feeling like getting back into exercise, you won't regret joining up. Highly recommend
Linda F
Joining the HIIT Factory in Mornington was a game changer for me! The 30 mins sessions mean I can fit them in easier into my schedule. With 2 young children, the option of either live streaming the classes or bringing the kids along with me has meant I have kept up a consistent routine that has helped me lose weight, get fitter and healthier. Ana is a great trainer who supports each and everyone of her members through their journey and has built a great community.
Carol Rodriguez
I love being a member at the HIIT factory Mornington. From the get go I've felt welcomed and supported, Ana the owner and trainer is so encouraging and brings the positivity to every workout! When I started I had an injury but she was able to accomodate completely and it never felt like a issue. And the the community is fantastic - everyone has been sooo lovely. It's such a great place to work out and especially as a mum - knowing I can bring the kiddies along if need be is a huge bonus and they are totally welcomed too . Love it
dee gannon
I have finally found my happy place! Ana has created the most amazing community at The HIIT Factory Mornington. From the first day I stepped through the door, I was made to feel welcome, from both staff and members. I usually struggle when it comes to gyms. A lot of the ones I have attended in the past, have felt very impersonal, and I have found it rather overwhelming not knowing what I need to do. However it the the total opposite here. Friendly faces, strangers becoming friends and everyone motivating one another. The thing I love the best, is that Ana teaches you the correct way to do the exercises, and also has options with each exercise to ensure the workout is suitable for all levels. I highly recommend THF Mornington, and I look forward to going every day.
Ashlee Caminiti
I joined the HIIT factory 2.5 years ago when it opened and have been addicted ever since! I had a 5 month old baby when I joined who has grown up going to the gym every morning with me (she actually gets upset if we miss a day) I've also had another bub since then so now they both come along. I love being able to take the kids and still get a good, hard 30 min workout in. Ana is the best motivator and instructor I've ever met. Her energy is contagious! Joining has been the best thing I've ever done for myself!
Sherie Stegehuis