https://gymnearme.net.au/backend/profiles/get_profiles?gym_id=5139&include_types=1&include_classes=1&include_features=1&include_social=1&include_memberships=1&include_offers=1&include_hours=1&include_reviews=1&include_google_place=1&include_average_review=1&return_url=1
Category
Gym

HIIT

Boxing

Martial Arts
Classes
Boxing

Circuit

HIIT

Group Classes
Opening Hours
Mon: 05:30 - 00:00
Tue: 05:30 - 00:00
Wed: 05:30 - 00:00
Thu: 05:30 - 00:00
Fri: 05:30 - 00:00
Sat: 00:00 - 10:30
Sun: 00:00 - 10:00
Membership Plans Available at UBX Ashburton
At Ubx Training Ashburton, you can choose from three different plans: Flexi (1) for $65/week, 3 Month (1) for $59/week, or 6 Month (1) for $49/week. The longer you commit, the cheaper it gets!
| Plan | Description | Price |
| --- | --- | --- |
| FLEXI (1) | | $65 - weekly |
| 3 MONTH (1) | | $59 - weekly |
| 6 MONTH (1) | | $49 - weekly |
About UBX Ashburton
We are UBX [You-Box]: world-class boxing workouts, ready when you are. UBX delivers a unique mix of boxing and strength training across a 12 round circuit. Six of the rounds include boxing exercises, whether that's bagwork or one-on-one padwork with a coach. The other six rounds include a combination of functional strength, cardio and conditioning movements. Each day is different and members can start their workout at any time they like. Co-founded in Australia by four-time world champion boxer Danny Green and fitness entrepreneur Tim West, UBX now has over 90 boutique gyms across Australia, New Zealand and Singapore, with more gyms opening in the United Kingdom and United States in 2022. Claim your FREE trial today via our website.
See what makes UBX Ashburton the Best Gym in Town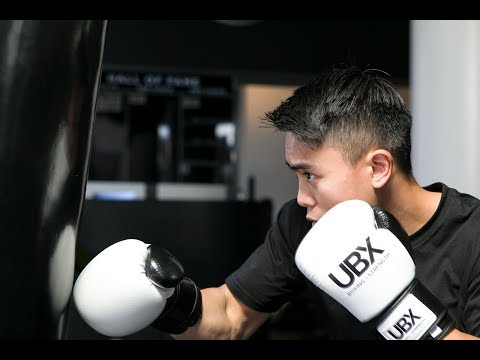 Experience the energy and community at UBX Ashburton.
See our certified trainers in action and get a feel for the energy and community at our gym. Watch now and come experience the difference at Ashburton.
Get a feel for the lively and supportive atmosphere that sets UBX Ashburton apart from other gyms in Ashburton
See firsthand the dedication and passion of our certified trainers as they guide and inspire members to reach their fitness goals.
Map
Enquire and view gym prices at UBX Ashburton. No obligation to join.
Customer Reviews
UBX Training Ashburton is a fantastic place to get fit and stay fit. Customers love the flexible hours, no session start times, and the fact that the training is tailored to their individual needs. The trainers are passionate, knowledgeable, and friendly, and they make sure that everyone is doing the exercises correctly. The atmosphere is welcoming and comfortable, and the community spirit is strong. Customers also appreciate the combination of boxing, strength and conditioning, and HIIT exercises, as well as the competitive spirit and banter with the other members. The gym is constantly being refurbished and new equipment is being added to keep it interesting. The team also offers online sessions, outdoor group and PT sessions, and Myzone app tracking to help customers stay motivated and reach their goals. All in all, UBX Training Ashburton is a great place to get fit and have fun.
I have just recently joined UBX Ashburton, and the experience has amazed me. After my first session I was hooked, and I find myself looking forward to going as much as possible. The environment at UBX Ashburton is so comfortable and welcoming, thanks to the coaches Kim and Mekayla, who are both so ardent and supportive. I very highly recommend UBX Ashburton!
Lachlan Mccaffrey
Why would anyone go anywhere else. Flexible hours, no session start times, training that works, instructors that care and are fun to be with and most importantly results do count and we're here to tell you with our combined visits approaching 1000 sessions we're here to stay. Keep up the good work Kim & all the team at UBX Ashburton cheers John & Liz
John Stabelos
Couldn't recommend UBX Ashburton enough!! The trainers are absolutely incredible! Not only are they passionate about what they do but offer a world of knowledge to help each member reach there full potential! UBX provides the perfect mix of training incorporating boxing with strength and conditioning. The flexible start times is such a bonus and the supportive & friendly community is like no other!!
Brigitte Rouskas
Trained here for around 6 months now. Joined for its flexibility, stayed due to the quality of the workouts. It's a really savvy gym that caters to all fitness levels. You know you'll get a good full body workout each session. Great mix of age groups across its members too, so you are never out of place. 

It is high intensity and can be a system shock initially. But the trainers are happy to show variations of the workouts and movements to cater to your level, which helped me a lot initially. I really enjoy the boxing drills the trainers weave between workouts to mix things up. Few of the trainers have ex-martial arts backgrounds, so can provide meaningful tips if you want to improve.
Harrison Polites