https://gymnearme.net.au/backend/profiles/get_profiles?gym_id=5182&include_types=1&include_classes=1&include_features=1&include_social=1&include_memberships=1&include_offers=1&include_hours=1&include_reviews=1&include_google_place=1&include_average_review=1&return_url=1
Category
Gym

HIIT

Boxing

Martial Arts
Opening Hours
Mon: 00:00 - 00:00
Tue: 00:00 - 00:00
Wed: 00:00 - 00:00
Thu: 00:00 - 00:00
Fri: 00:00 - 10:00
Sat: 00:00 - 11:00
Sun: Closed
Membership Plans Available at UBX Greenslopes
Ubx Training Greenslopes offers 6 and 12 month memberships, billed weekly, with the 6 month membership costing $52/week and the 12 month membership costing $49/week.
| Plan | Description | Price |
| --- | --- | --- |
| 6 MONTH (1) | | $52 - weekly |
| 12 MONTH (1) | | $49 - weekly |
About UBX Greenslopes
We are UBX [You-Box]: world-class boxing workouts, ready when you are. UBX delivers a unique mix of boxing and strength training across a 12 round circuit. Six of the rounds include boxing exercises, whether that's bagwork or one-on-one padwork with a coach. The other six rounds include a combination of functional strength, cardio and conditioning movements. Each day is different and members can start their workout at any time they like. Co-founded in Australia by four-time world champion boxer Danny Green and fitness entrepreneur Tim West, UBX now has over 90 boutique gyms across Australia, New Zealand and Singapore, with more gyms opening in the United Kingdom and United States in 2022. Claim your FREE trial today via our website.
See what makes UBX Greenslopes the Best Gym in Town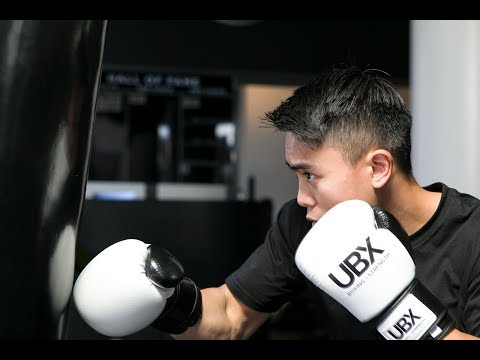 Experience the energy and community at UBX Greenslopes.
See our certified trainers in action and get a feel for the energy and community at our gym. Watch now and come experience the difference at Greenslopes.
Get a feel for the lively and supportive atmosphere that sets UBX Greenslopes apart from other gyms in Greenslopes
See firsthand the dedication and passion of our certified trainers as they guide and inspire members to reach their fitness goals.
Map
Enquire and view gym prices at UBX Greenslopes. No obligation to join.
Customer Reviews
UBX Training Greenslopes is a fantastic gym that offers a unique and enjoyable workout experience. Customers love the supportive and encouraging atmosphere, the knowledgeable and friendly trainers, and the variety of exercises that are available. The gym is open during convenient hours and offers a range of classes and personal training options.
The trainers at UBX Training Greenslopes are highly praised by customers for their positive attitude and enthusiasm. They are always on hand to provide advice and support, and to correct form and answer questions. The gym also offers a range of tracking options, such as Myzone straps and body scans, to help customers stay on track and achieve their goals.
The atmosphere at UBX Training Greenslopes is described as friendly and inviting, and customers feel like they are part of a community or family. The gym is suitable for all fitness levels, from those just starting their fitness journey to those who are experienced. Customers also love the 12 round format, which provides great flexibility and allows them to complete an organised and varied workout when it suits them.
I am not someone who writes reviews, but I love UBX Greenslopes so much I decided it was worth it. I have been a member now for over a year, and I cannot say enough good things about UBX Greenslopes. But without question, the best part of this club is the trainers. AJ, the owner and trainer, is the most positive, enthusiastic and encouraging trainer I have ever worked with! And Maddy and Matt, his 2 co-trainers are absolutely awesome as well. They push you just the right amount, provide encouragement when it feels hard, and are on hand to correct your form, answer any questions and always have a laugh! Being a member of this club feels like being part of a community or family, and in fact, on weekends the gym is often filled with family members and kids and it is such a lovely experience. Apart from the people, there are many other benefits of UBX training which makes it effective and fun. For example, unlike formal classes, there is no start and stop time, just turn up during opening hours, hop on a round and start. 12 rounds of 3 mins and you're done. The mixture of cardio, strength and boxing gives you a good overall workout, and with rounds changing daily, it never gets boring. You can go as slow or hard as you like, depending on your fitness level, motivation and goals, but heads up - the atmosphere and workouts can be very addictive and you'll end up wanting to go all the time, especially when you start seeing results. Unlike some other gyms, you will never feel judged here. There is a wide range of fitness levels and types, from those just starting their fitness journey to those who are very experienced. There are some members who train to keep healthy and have some fun along the way to those who want to push themselves to their limits, and there is never any judgement from other members or the trainers, just support to achieve whatever your goals are. There is also the ability to track your HR via myzone strap, which is useful to track the intensity of your workouts and see how hard you are pushing - and when you need to stop and take a breath! It also helps keep you accountable to see where you might be able to push yourself a little harder. There is also a Body Scan available in the club, which is very useful to track your body composition in detail if this important to you, such as lean body mass, skeletal muscle, fat mass etc. This is very encouraging when you can see you are making progress towards your goals, and the trainers are always happy to help discuss your results and review you training and nutrition plan to help stay on track and achieve your goals. You honestly won't regret joining UBX Greenslopes.
Peta
Hands down BEST gym I've ever been to! I love that I don't have to think about what workout I'm going to do as it's all planned out for you, and everyday is different. I've also achieved great results, have found a new love for boxing and the trainers are amazing. Aj and Matt really keep everyone motivated, and make you want to come back.
Valerie Congreve
As a member for nearly 4 years, I still get super pumped to walk through the doors, greet my trainer and put my gloves on. With supercharged energy, the trainers AJ and Matt push us to our limits with constantly changing routines and an endless supply of different workouts. Every training session is different and the activities can be altered for all abilities. Whether you've never hit a boxing bag in your life, or can combine an 8 punch combo with speed and technique; this is the one 'gym' that will get you sweating, drop a few kgs, build muscle or just burn some calories. Seriously, stop in a say "hi" and have a go. You won't regret it!
Eri Danieletto