https://gymnearme.net.au/backend/profiles/get_profiles?gym_id=5184&include_types=1&include_classes=1&include_features=1&include_social=1&include_memberships=1&include_offers=1&include_hours=1&include_reviews=1&include_google_place=1&include_average_review=1&return_url=1
Category
Gym

HIIT

Boxing

Martial Arts
Classes
Boxing

Martial Arts

Group Classes
Opening Hours
Mon: 00:00 - 00:00
Tue: 00:00 - 00:00
Wed: 00:00 - 00:00
Thu: 00:00 - 00:00
Fri: 00:00 - 10:00
Sat: 06:30 - 09:30
Sun: Closed
Membership Plans Available at UBX Labrador
The Ubx Training Labrador FLEXI (2) plan is a no-contract plan that costs $110 every two weeks and gives you access to all of the training resources.
| Plan | Description | Price |
| --- | --- | --- |
| FLEXI (2) | | $110 - fortnightly |
About UBX Labrador
We are UBX [You-Box]: world-class boxing workouts, ready when you are. UBX delivers a unique mix of boxing and strength training across a 12 round circuit. Six of the rounds include boxing exercises, whether that's bagwork or one-on-one padwork with a coach. The other six rounds include a combination of functional strength, cardio and conditioning movements. Each day is different and members can start their workout at any time they like. Co-founded in Australia by four-time world champion boxer Danny Green and fitness entrepreneur Tim West, UBX now has over 90 boutique gyms across Australia, New Zealand and Singapore, with more gyms opening in the United Kingdom and United States in 2022. Claim your FREE trial today via our website.
See what makes UBX Labrador the Best Gym in Town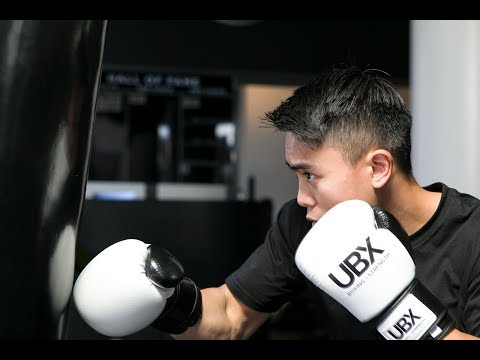 Experience the energy and community at UBX Labrador.
See our certified trainers in action and get a feel for the energy and community at our gym. Watch now and come experience the difference at Labrador.
Get a feel for the lively and supportive atmosphere that sets UBX Labrador apart from other gyms in Labrador
See firsthand the dedication and passion of our certified trainers as they guide and inspire members to reach their fitness goals.
Map
Enquire and view gym prices at UBX Labrador. No obligation to join.
Customer Reviews
Ubx Training Labrador is a gym that has been providing its members with an amazing fitness experience for years. Customers love the friendly and high performance staff, the knowledgeable trainers, the fun atmosphere, and the personalised and friendly sessions. The staff are always willing to give an extra push to help members reach their goals, and they make sure to get to know everyone in the gym by name. The gym also offers a variety of classes and personal training options, as well as challenging workouts and great cardio.
The members of Ubx Training Labrador also appreciate the great sense of community that the gym provides. Everyone is always happy to see each other and the staff make sure to welcome everyone by name when they walk in the door. The gym also offers free workshops and fun challenges, and the members feel like part of a family.
Overall, Ubx Training Labrador is an amazing gym that provides its members with a great fitness experience. The staff are friendly, knowledgeable, and highly motivated, and the members are always willing to help and encourage each other. The gym also offers a variety of classes and personal training options, as well as challenging workouts and great cardio. It is the perfect place for anyone looking to kick start their health goals and be part of an amazing community.
The gym used to have such a great environment, super friendly and high performance staff. Since the change of ownership this year the club has gone downhill with the staff not being respected which then effected the members experience. There has been a change of staff recently which is really disappointing as they had no choice but to leave due to owners circumstances. The lack of care for the members and people who have done so much for the club is really appalling. This owner disrespects the clubs community and has no respect for the staff or clientele. It's disheartening seeing the club go so strong for 4 years and through such hard times just to get thrown in the bin since the change of ownership due to selfish decisions. I don't recommend this gym anymore, you're better off spending your money elsewhere!
Maddy
Speaking from the heart, it's the best gym I've ever been to and it slowly became my favourite place to be at. I had a hard time accepting who I am past the years, until I started going to 12rnd. Not gonna lie my very first time I was actually kinda forced to go. My family and friends kept asking "When are you gonna start hit the gym?" I always answered with a simple, "No." However as soon as I got convinced to actually go for the first time I regretted straight away of not going sooner. Now I can surely say that everything about the gym is absolutely perfect. The trainers are entertaining, highly professional and very motivating. The atmosphere is lovely and you catch up very fast thanks to the awesome tips they give. I learn every day about so many different things going there. I can defiantly highly recommend it. Not only as a place to work out, but also as a home. (Clara :) )
Clara Niña
I have been part of 12 round Labrador for around 12 months now. I love it - all the coaches are fantastic, you cannot fault their personal and energetic approach, they really do make you feel welcome. I have taken friends and my daughter along on occasions and they have always found it such a friendly and supportive environment - I haven't been a member of a gym before that greets all its members by name as they walk in the door. The coaches really make the effort to get to know you - they tailor each session to match your own ability, and they miss you when you're not there (expect phone calls to hold you to account!). It's a cliché but you do feel part of a gym family! I would recommend anyone thinking about starting a new or changing their current exercise regime to get off the fence and come and give it a go - I can guarantee you'll get hooked in no time!
Sarah Brown
I could not speak more highly of the team at 12 rounds in Labrador. It's not just a gym it's like a second home. I love the concept and how 12 rounds works. My fitness journey has not been easy but I have seen the best results and rewards training with this team. It's flexible and suitable for literally ANYONE. They give you the skills and guidance you need. I don't for 1 moment feel judged by anyone when I walk in the door. I have made my own goals and achieved them at my own pace. It's not just the trainers who make it the members also make you feel like part of the family. Love you guys and thank you from the bottom of my heart for everything you have helped me achieve and overcome
Sarah Bentley