https://gymnearme.net.au/backend/profiles/get_profiles?gym_id=5215&include_types=1&include_classes=1&include_features=1&include_social=1&include_memberships=1&include_offers=1&include_hours=1&include_reviews=1&include_google_place=1&include_average_review=1&return_url=1
Category
Gym

HIIT

Boxing

Martial Arts
Opening Hours
Mon: 05:30 - 00:00
Tue: 05:30 - 00:00
Wed: 05:30 - 00:00
Thu: 05:30 - 00:00
Fri: 05:30 - 00:00
Sat: 00:00 - 10:00
Sun: Closed
Membership Plans Available at UBX North Sydney
Ubx Training North Sydney offers two types of memberships: Flexi (2) with no contract and billed fortnightly at $150/fortnight, 6 Month (2) with a minimum term of 6 months and billed fortnightly at $120/fortnight, and 12 Month (2) with a minimum term of 12 months and billed fortnightly at $100/fortnight.
| Plan | Description | Price |
| --- | --- | --- |
| FLEXI (2) | | $150 - fortnightly |
| 6 MONTH (2) | | $120 - fortnightly |
| 12 MONTH (2) | Minimum Term of 12 Months | $100 - fortnightly |
About UBX North Sydney
We are UBX [You-Box]: world-class boxing workouts, ready when you are. UBX delivers a unique mix of boxing and strength training across a 12 round circuit. Six of the rounds include boxing exercises, whether that's bagwork or one-on-one padwork with a coach. The other six rounds include a combination of functional strength, cardio and conditioning movements. Each day is different and members can start their workout at any time they like. Co-founded in Australia by four-time world champion boxer Danny Green and fitness entrepreneur Tim West, UBX now has over 90 boutique gyms across Australia, New Zealand and Singapore, with more gyms opening in the United Kingdom and United States in 2022. Claim your FREE trial today via our website.
See what makes UBX North Sydney the Best Gym in Town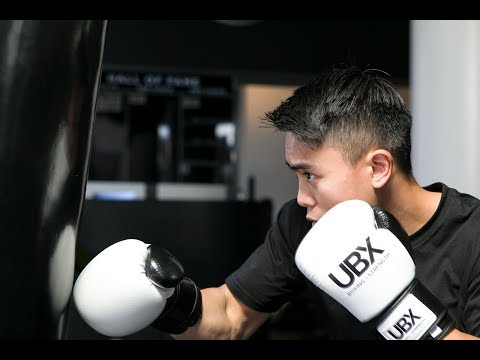 Experience the energy and community at UBX North Sydney.
See our certified trainers in action and get a feel for the energy and community at our gym. Watch now and come experience the difference at North Sydney.
Get a feel for the lively and supportive atmosphere that sets UBX North Sydney apart from other gyms in North Sydney
See firsthand the dedication and passion of our certified trainers as they guide and inspire members to reach their fitness goals.
Map
Enquire and view gym prices at UBX North Sydney. No obligation to join.
Customer Reviews
UBX Training North Sydney is a top-notch gym that offers a unique and comprehensive fitness experience. Customers love the modern equipment, motivating atmosphere, and knowledgeable trainers. The gym offers a variety of classes and personal training options, as well as boxing drills and mini challenges. Customers appreciate the flexibility of the open hours and the fact that pad work is included in the membership. The trainers are friendly, encouraging, and professional, and they make sure that everyone feels welcome and comfortable. The gym also has a great sound system and is always clean and organized. Customers have praised the HIIT program, the variety of exercises, and the camaraderie of the gym. They also appreciate the fact that the workouts can be tailored to all levels, from beginners to experienced athletes. Overall, customers have been extremely satisfied with their experience at UBX Training North Sydney and highly recommend it to anyone looking for a great workout.
Absolutely awesome gym! (not to be confused with UBX in Crows Nest) This is framed as a boxing gym but it's suitable for all skill levels and basically uses all the training elements boxers use to get into peak physical health, without having to actually getting into a ring to spar. Mike and the other coaches are extremely helpful, super knowledgeable, supportive and the atmosphere really keeps everyone going. 100% would recommend anyone giving it a go!
Garrett Healy
UBX is a solid 10/10. The facility is super clean with a huge variety of workouts, the staff are all incredibly friendly and put a huge effort into making you feel welcome and not only that; they are all incredibly knowledgeable. Starting fresh at a gym is daunting for all of us, especially if it is the start of your fitness journey, however after the first session you will see exactly why UBX is suitable for everyone and not egotistical one bit. If you're looking for a change or starting out fresh this is the place for you. With the variety of exercises, fitness-based training camps and camaraderie you will never look back. Thank you, Mike, Leon, Day and the team you're all what make UBX what it is.
Ben Chorlton
After working in gyms and attending different gyms for years UBX sets the standard at the top, the trainers, the owners and the concept is second to none. I would highly recommend anybody of any ability to just give it a go. The trainers and staff are friendly very welcoming and the work out goes far beyond a normal gym session. Don't let the word boxing worry you, weather it's your first time putting gloves on you will be shown the correct method of how-to box and get the most out of your work out with a mixture of resistance training included- Turn up anytime and within 3 mins you start your 45 min work out. Best gym in town! Thanks legends
nick mcneill
If you've ever wanted to give boxing a go or are looking for a new gym, I would highly recommend UBX north Sydney! Mike, Leon and the other trainers are incredible at what they do and have worked so hard to create a community that is undeniably supportive and just an overall great vibe. The workouts can be catered to all levels so don't feel afraid to try out something new! Love the work you guys do, thank you for training us all :)
Deejay Jee
Whether you are looking for a sweat, to make some new friends, learn something new, or to get yourself into great shape - this is the gym to come to. The trainers are top notch - encouraging, helpful, and there to teach you something new and help you find your next level, no matter your starting point. The squad is a reflection of the great attitude of the coaches with Mike, Leon, and the rest of the crew always bringing 100% with a smile on their face. Doesn't matter if you are a beginner, or someone who has done boxing before - there's so much to get out of joining up and sticking with it. If you're thinking of joining, don't hesitate! You'll be glad that you did.
Paul Lui