https://gymnearme.net.au/backend/profiles/get_profiles?gym_id=5361&include_types=1&include_classes=1&include_features=1&include_social=1&include_memberships=1&include_offers=1&include_hours=1&include_reviews=1&include_google_place=1&include_average_review=1&return_url=1
Category
Gym

Fitness Center

Health Centre
Opening Hours
Mon: Open 24 Hours
Tue: Open 24 Hours
Wed: Open 24 Hours
Thu: Open 24 Hours
Fri: Open 24 Hours
Sat: Open 24 Hours
Sun: Open 24 Hours
Membership Plans Available at World Gym Busselton
Worldgym Busselton offers a range of membership options, from basic to premium, with prices starting from $19.99 per month. With a membership, you can access the gym's facilities, including a range of fitness classes, equipment, and personal trainers.
About World Gym Busselton
Giving real people a home for no-nonsense workouts since 1976. Master your personal fitness goals from body-building to cardio at one of the health clubs found at WorldGym.com.
In 1976, it all began here. The iconic celebrity fitness scene. The serious, no-nonsense workout. The commitment to always remain a true gym, not a resort. A place where fitness is an authentic passion. Where you belong among friends. Where everyone is a star and you find power to lift yourself to greatness. This is World Gym, the world-famous brand for seriously fun fitness.
See what makes World Gym Busselton the Best Gym in Town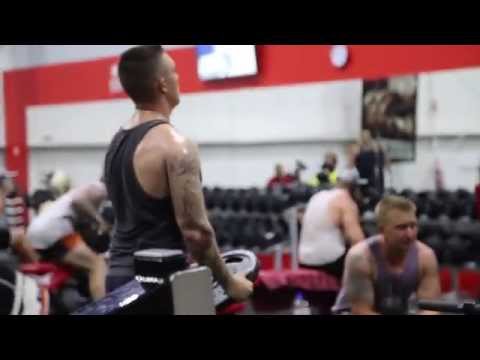 Experience the energy and community at World Gym Busselton.
See our certified trainers in action and get a feel for the energy and community at our gym. Watch now and come experience the difference at Busselton.
Get a feel for the lively and supportive atmosphere that sets World Gym Busselton apart from other gyms in Busselton
See firsthand the dedication and passion of our certified trainers as they guide and inspire members to reach their fitness goals.
Map
Enquire and view gym prices at World Gym Busselton. No obligation to join.
Customer Reviews
Worldgym Busselton is a fantastic gym that offers a wide range of classes and equipment for all fitness levels. Customers love the friendly and helpful staff, the clean and tidy environment, and the top-tier equipment. The crèche carers are also highly praised for their kindness and friendliness. The gym also offers personal training options and a variety of fitness classes, including yoga and hot yoga. Customers also appreciate the generous opening times and the secure parking.
The reviews also mention the highly skilled and specialist trainers, as well as the great vibes in the gym. The music is said to be great and the lighting makes customers feel massive. Customers also appreciate the good community and the fact that the staff are always ready to help.
Finally, customers have praised the gym for its amazing service and lovely facilities. They have said that it is the best gym they have ever been to and that it is the perfect place for parents to get some time to themselves. They also love the fact that the crèche times slots are generous and that their children are well cared for and have a great time. All in all, Worldgym Busselton is a great gym that customers highly recommend.
My wife and I joined the gym in January and we are so glad we did. We are really enjoying the sauna and hot yoga but the strenght training has been transformational. I've had back issues for many years that have been getting worse. In the last 6 months I've hardly thought about my back. We find all the staff cheerful, friendly and helpful particularly Cat and Sam, and they make awesome shakes.
Andrew Stephenson
We came to this gym when we were down south from Perth over the weekend and it was amazing! From the moment we walked in and were greeted by the friendly receptionist to when we left it was a great experience. Equipment is top tier and the place is so clean and tidy. Change rooms immaculate too. One of the best kept gyms we have ever been to! Thanks for having us guys, can't wait to come back!
Katelyn Rabey