https://gymnearme.net.au/backend/profiles/get_profiles?gym_id=5352&include_types=1&include_classes=1&include_features=1&include_social=1&include_memberships=1&include_offers=1&include_hours=1&include_reviews=1&include_google_place=1&include_average_review=1&return_url=1
Category
Gym

Fitness Center

Health Centre
Classes
HIIT

Pilates

Spin

Group Classes
Opening Hours
Mon: 05:30 - 20:00
Tue: 05:30 - 20:00
Wed: 05:30 - 20:00
Thu: 05:30 - 20:00
Fri: 05:30 - 17:30
Sat: 06:00 - 15:00
Sun: 07:00 - 14:00
Membership Plans Available at World Gym Caloundra
Worldgym Caloundra offers a range of membership options, from basic to premium, with prices starting from $19.99 per month. With a membership, you can access the gym's facilities, classes, and equipment to help you reach your fitness goals.
About World Gym Caloundra
Giving real people a home for no-nonsense workouts since 1976. Master your personal fitness goals from body-building to cardio at one of the health clubs found at WorldGym.com.
OPEN 24/7 FOR SERIOUSLY FUN FITNESS! World Gym Caloundra is for everyone! With such a great variety of equipment and classes, crèche, café, sauna and more, it's sure to satisfy ALL your training and fitness needs. Would like to know more? Visit our website to learn more. SEE YOU SOON!
See what makes World Gym Caloundra the Best Gym in Town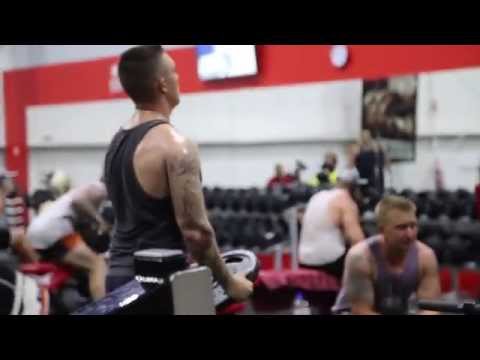 Experience the energy and community at World Gym Caloundra.
See our certified trainers in action and get a feel for the energy and community at our gym. Watch now and come experience the difference at Caloundra.
Get a feel for the lively and supportive atmosphere that sets World Gym Caloundra apart from other gyms in Caloundra
See firsthand the dedication and passion of our certified trainers as they guide and inspire members to reach their fitness goals.
Map
Enquire and view gym prices at World Gym Caloundra. No obligation to join.
Customer Reviews
World Gym Caloundra is an amazing gym that caters to people of all ages and abilities. Customers love the supportive community, friendly staff, and the wide range of equipment and facilities available. The gym is always clean and well-maintained, and the front of house staff make a great coffee. The personal trainers are highly praised for their exceptional coaching and support, and the creche is a great addition for parents.
The gym also offers a variety of classes, including reformer pilates, HIIT, and Ride Rev. Members also appreciate the great value of their membership, and the fact that the owners are always willing to help and make sure their members are taken care of.
Overall, customers are extremely happy with their experience at World Gym Caloundra. They love the atmosphere, the staff, and the range of equipment and classes available. The gym is a great place to work out and get fit, and the owners and staff make sure that everyone feels welcome and supported.
I can not speak anymore higher than World Gym Caloundra. This is by far the best gym I have ever been too, I highly recommend this place to my family and friends! The owners Ricky & Craig were so welcoming and so helpful! I had the best gym session of my life at this place. I will definitely be coming back! Thanks to World Gym Caloundra!
saachi davis
Don't work here! Don't even bother being a member! As a former membership consultant here, I can confidently say that if you're looking for a job, do yourself a favour and work anywhere else on the Sunshine Coast than World Gym Caloundra. Management are bullies. If you have a question, an opinion, question your pay/commission, or in my case, stand up for yourself and your team, you will get fired, and very quickly too. If you work here, you'll most likely never be trained properly and just expected to know everything straight away. You'll also be put down, lied to and bullied numerous times per day by management. Members, you're not safe either. Management are often daily making fun of members and prospects if you dare question anything on your account or payments. She is in the back office calling members names like "Bottomfeeders" if you question anything. All you are is a dollar sign to management. They honestly don't care about you. Funnily enough, World Gym Caloundra charges fees that you won't have to pay at any other World Gym. Things like joining fees or transferring your membership cost anywhere $75-$100. At other World Gym's it's free to transfer and worst case, $30 to join. This pretty much sums up what their business values and ethics are. They only care about money. Even though my experience occurred in January 2022 (and thankfully no longer than 5 weeks because I do not tolerate being treated badly), it's so sad to continually hear stories about other staff members being bullied and/or being fired for similar reasons to myself. For this reason, I decided it was really important to leave my feedback about World Gym Caloundra so others hopefully don't experience what I went through. After 12 years in the fitness industry, this is easily the poorest run gym I've ever come across, with even worse management. Please, get a job ANYWHERE else but here! Please, don't support a business who behind the scenes are treating their staff so poorly. 0 stars
Sinead Disaya
If there was a 0-star option, that's what World Gym Caloundra deserves, but I suppose a 1-star will have to do, unfortunately. After seeing what this juiced-up corporate company is doing to MANY local small businesses In the Aura area, I can confidently say that I, along with many others who stand by me, will never support this world gym location again. If COVID-19 has taught our community anything, it's to support LOCAL, I guess you didn't get the memo. Might I add, how incompetent the "trainers" are? Do yourselves a favour and go educate your staff on how to properly coach clients before someone gets hurt.
Namaste OnTheGo
Really amazing gym - I've never felt so comfortable at a gym before, everyone (including staff and other gym goers) are all so friendly and supportive. Big shout out to Ant who is a PT at the gym - he has been really supportive and is the best PT. Ant has really shown me what I can achieve at the gym and made me feel really confident in myself again from his coaching with my training and meal plans. I really wouldn't be where I am today without him!
Jasmine Vassallo