https://gymnearme.net.au/backend/profiles/get_profiles?gym_id=5337&include_types=1&include_classes=1&include_features=1&include_social=1&include_memberships=1&include_offers=1&include_hours=1&include_reviews=1&include_google_place=1&include_average_review=1&return_url=1
Category
Gym

Fitness Center

Health Centre
Classes
Yoga

Pilates

Zumba

HIIT

Group Classes
Opening Hours
Mon: 05:30 - 20:30
Tue: 05:30 - 20:30
Wed: 05:30 - 20:30
Thu: 05:30 - 20:30
Fri: 05:30 - 19:00
Sat: 07:00 - 12:00
Sun: 08:00 - 12:00
Membership Plans Available at World Gym Coffs Harbour
Worldgym Coffs Harbour offers a range of membership options, including monthly, quarterly, and annual plans. Each plan includes access to the gym's facilities, classes, and personal training sessions.
About World Gym Coffs Harbour
Giving real people a home for no-nonsense workouts since 1976. Master your personal fitness goals from body-building to cardio at one of the health clubs found at WorldGym.com.
SERIOUSLY FUN FITNESS In 1976, it all began here. The iconic celebrity fitness scene. The serious, no-nonsense workout. The commitment to always remain a true gym, not a resort. A place where fitness is an authentic passion. Where you belong among friends. Where everyone is a star and you find power to lift yourself to greatness. This is World Gym, the world-famous brand for seriously fun fitness.
See what makes World Gym Coffs Harbour the Best Gym in Town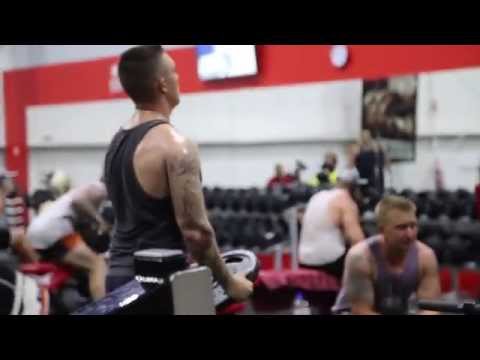 Experience the energy and community at World Gym Coffs Harbour.
See our certified trainers in action and get a feel for the energy and community at our gym. Watch now and come experience the difference at Coffs Harbour.
Get a feel for the lively and supportive atmosphere that sets World Gym Coffs Harbour apart from other gyms in Coffs Harbour
See firsthand the dedication and passion of our certified trainers as they guide and inspire members to reach their fitness goals.
Map
Enquire and view gym prices at World Gym Coffs Harbour. No obligation to join.
Customer Reviews
Worldgym Coffs Harbour is an excellent gym that offers a wide range of facilities and features to its customers. The gym is always clean and well-maintained, and there is plenty of equipment for everyone to use, even when it is busy. Customers have praised the helpful and friendly staff, the modern and well-thought-out design of the gym, the airy and roomy atmosphere, the bathrooms, sauna, and showers, the upstairs weight machine area for those who are not comfortable with display, and the 24/7 access.
The gym also offers a variety of classes, personal training options, and exercise and training protocols. Customers have also praised the quality of the machines, the free weights, the sturdy cardio equipment, the parking, and the friendly and experienced staff. The cafe is also a great addition to the gym, offering protein shakes, protein powder, protein bars, drinks, and merch.
Overall, customers have had nothing but positive things to say about Worldgym Coffs Harbour. From the helpful and friendly staff to the modern and well-thought-out design of the gym, customers have praised the gym for its excellent facilities and features.
I just seen a sign on the front desk saying Coffs best gym. It doesn't have 1 medicine ball!!! NOT 1!!!!!! They have wall balls, but can't see where you could possibly even use them. They also have slam balls. No 45⁰ back extension rig either. When asked about it they told me I could buy my own and leave it there?????
Ace Spade
First up I am not a gym person so for me to rate a gym highly it has to be good. The thing I like most about world gym is that there is an upstairs weight machine area that is tucked away so those of us who are not quite so comfortable with display can quietly work out privately. The gym is also airy and roomy with equipment enough for everyone. Love the bathrooms, sauna and especially the showers!
Sue Lucas
Update since I joined. Been here for a few months now and love it! The bathroom is amazing! So big, clean and modern. GHD hairdryer and straighteners and a sauna. There is heaps of lockers also. The whole gym is always so clean and smells nice, thank you cleaners you work so hard. So much equipment downstairs and upstairs is great if you are shy or have anxiety lol. There is a spin class and another huge room for classes but they said we can use it to train also (also very quiet and you can close the doors). So many treadmills and Stairmasters lol I love how the back of me is facing a wall so I'm not paranoid about how my butt looks while doing cardio
Melody Radford