https://gymnearme.net.au/backend/profiles/get_profiles?gym_id=5336&include_types=1&include_classes=1&include_features=1&include_social=1&include_memberships=1&include_offers=1&include_hours=1&include_reviews=1&include_google_place=1&include_average_review=1&return_url=1
Category
Gym

Fitness Center

Health Centre
Opening Hours
Mon: 05:30 - 20:30
Tue: 05:30 - 20:30
Wed: 05:30 - 20:30
Thu: 05:30 - 20:30
Fri: 05:30 - 19:30
Sat: 07:00 - 12:00
Sun: 08:00 - 12:00
Membership Plans Available at World Gym Port Macquarie
Worldgym Port Macquarie offers a range of membership options, starting from $19.99 per month, with access to a variety of fitness classes, equipment, and amenities.
About World Gym Port Macquarie
Giving real people a home for no-nonsense workouts since 1976. Master your personal fitness goals from body-building to cardio at one of the health clubs found at WorldGym.com.
In 1976, it all began here. The iconic celebrity fitness scene. The serious, no-nonsense workout. The commitment to always remain a true gym, not a resort. A place where fitness is an authentic passion. Where you belong among friends. Where everyone is a star and you find power to lift yourself to greatness. This is World Gym, the world-famous brand for seriously fun fitness.
See what makes World Gym Port Macquarie the Best Gym in Town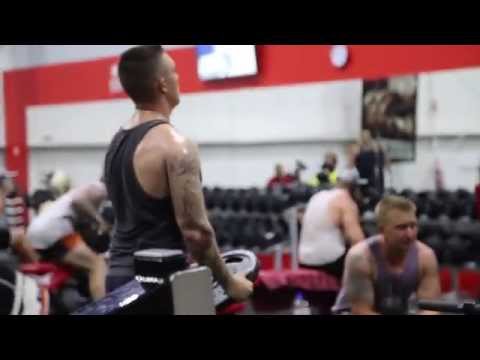 Experience the energy and community at World Gym Port Macquarie.
See our certified trainers in action and get a feel for the energy and community at our gym. Watch now and come experience the difference at Port Macquarie.
Get a feel for the lively and supportive atmosphere that sets World Gym Port Macquarie apart from other gyms in Port Macquarie
See firsthand the dedication and passion of our certified trainers as they guide and inspire members to reach their fitness goals.
Map
Enquire and view gym prices at World Gym Port Macquarie. No obligation to join.
Customer Reviews
Worldgym Port Macquarie is a top-notch gym that offers a wide range of facilities and features to its customers. From the state-of-the-art equipment to the friendly and helpful staff, customers are sure to have a great experience. The gym is always clean and well-maintained, and the music selection is great. Customers have also praised the Barbell Cafe, the lockers and supplies in the bathrooms, and the shop with protein and gym wear.
The staff at Worldgym Port Macquarie are always friendly and willing to help, and customers have noted that they make them feel welcome when they arrive. The gym also offers great classes, such as HIIT, and personal training options. Customers have also noted that the gym is very affordable, with no hidden fees.
Overall, customers have had nothing but positive experiences at Worldgym Port Macquarie. From the great atmosphere to the top-notch equipment and staff, customers have praised the gym for its excellent facilities and features. With its great classes, personal training options, and affordable rates, customers are sure to have a great experience at Worldgym Port Macquarie.
Excellent gym, excellent staff, excellent equipment, all held back and made unbearable by the fact they NEVER turn the air conditioner on during the day. I heard 6 different people complain about how hot it was today and all they do is open a door which provides no breeze. I'm fighting off the urge to pass out every day. It has been consistently hotter inside than it is outside since September. It was a bother back then, now that we're in summer it's just dangerous and negligent. It's cooler in the sauna than it is upstairs. It's a gym, we're doing things that are hot in a tin shed. Whatever the lowest temperature setting is, put it there and don't touch it until May. Don't use the scientifically disproven old wives tale of sweat = weightloss as an excuse to be cheap.
Booger Breathe
A little intimidating at first but staff are so friendly and always willing to give a hand. Everything you could possible need in equipment is all supplied ready to go. Great facilities including the Barbell Cafe, plenty of lockers and supplies in bathrooms. Everything you could need in their shop with protein and gym wear. Great gym!
Amber Deakin