https://gymnearme.net.au/backend/profiles/get_profiles?gym_id=5342&include_types=1&include_classes=1&include_features=1&include_social=1&include_memberships=1&include_offers=1&include_hours=1&include_reviews=1&include_google_place=1&include_average_review=1&return_url=1
Category
Gym

Fitness Center

Health Centre
Classes
Group Classes

Functional Studio
Opening Hours
Mon: 05:00 - 20:00
Tue: 05:00 - 20:00
Wed: 05:00 - 20:00
Thu: 05:00 - 20:00
Fri: 05:00 - 19:00
Sat: 06:30 - 13:00
Sun: 08:00 - 12:00
Membership Plans Available at World Gym Toowoomba
Worldgym Toowoomba offers a range of membership options, from basic access to all-inclusive packages, so you can choose the one that best fits your needs and budget.
About World Gym Toowoomba
Giving real people a home for no-nonsense workouts since 1976. Master your personal fitness goals from body-building to cardio at one of the health clubs found at WorldGym.com.
In 1976, it all began here. The iconic celebrity fitness scene. The serious, no non-sense workout. The commitment to always remain a true gym, not a resort. A place where great shape is an authentic passion. Where you belong among friends. Where everyone's star, and you have the power to lift yourself to greatness. This is World Gym.
See what makes World Gym Toowoomba the Best Gym in Town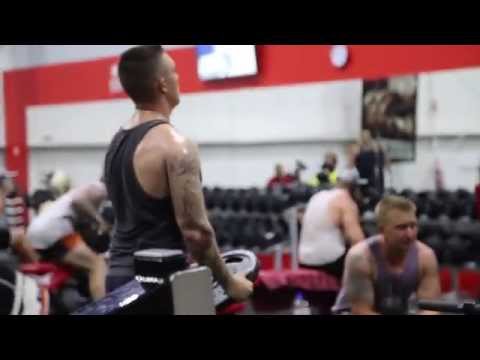 Experience the energy and community at World Gym Toowoomba.
See our certified trainers in action and get a feel for the energy and community at our gym. Watch now and come experience the difference at Toowoomba.
Get a feel for the lively and supportive atmosphere that sets World Gym Toowoomba apart from other gyms in Toowoomba
See firsthand the dedication and passion of our certified trainers as they guide and inspire members to reach their fitness goals.
Map
Enquire and view gym prices at World Gym Toowoomba. No obligation to join.
Customer Reviews
World Gym Toowoomba is an exceptional gym that offers a wide range of facilities and features to its members. Customers have praised the gym for its friendly staff, spacious facility, extensive equipment, and variety of classes. The gym is also praised for its cleanliness, 24/7 access, and ample parking. Customers have also commented on the helpfulness of the staff, the variety of equipment, and the great value for money.
The gym also offers personal training options, with customers praising the trainers for their knowledge and motivation. Jo Philp from My Big Fat Reality Project has been mentioned as a great personal trainer, with customers noting the improvement in their abilities and confidence since training with her. The gym also offers a KidsWorld creche, with customers noting how well looked after their children are.
Overall, customers have praised World Gym Toowoomba for its friendly staff, cleanliness, and wide range of facilities and features. The gym is praised for its helpfulness, variety of equipment, and great value for money. Customers have also commented on the great atmosphere, the helpful trainers, and the KidsWorld creche.
Very inviting place to start my fitness journey. Gym is clean and tidy, with sanitiser stations in every corner. Staff are very knowledgeable and friendly. The vibe of the place is great! Other gym goers are friendly, and there's no clicky judgemental energy. Thank you for making it so easy to attend weekly
Jess Price
Hi i highly recommended tony for being outstanding pt and his nutritional advice. I believe anyone that wants to achieve there body fittness, transformation or advice eating healthy tony the pt for it. In the time i have been with my pt i have slowly became stronger, healthier, my fitness and body are feeling and looking great. If anyone is looking for a pt that will check up on you make sure your doing well check your form and how everything is going coach with what ever you need to reach your biggest fitness health and body goals. l cant give any higher recommendations for a better pt that looks after his cleints and there well being. thanks again tony for continuing to reach my goals and help on my journey at world gym
Shannon Stanley
Received extremely poor service by Ryan. I was in a great mood after finishing my workout, however he was rude and ruined it. I approached the front counter after my workout, he looked me up and down and said: "You here for a shake or just want to chat?". Then continued to boast about working full time and complaining he does double shifts in a day. Not sure if too much ego is his problem, or he just wanted to bring me down to make himself look better in front of the two ladies standing around at the front desk. Not a good look.
Bad Manners