https://gymnearme.net.au/backend/profiles/get_profiles?gym_id=5345&include_types=1&include_classes=1&include_features=1&include_social=1&include_memberships=1&include_offers=1&include_hours=1&include_reviews=1&include_google_place=1&include_average_review=1&return_url=1
Category
Gym

Fitness Center

Health Centre
Classes
Circuit

HIIT

Yoga

Pilates

Zumba

Dance

Spin

Boxing
Opening Hours
Mon: 05:00 - 21:30
Tue: 05:00 - 21:30
Wed: 05:00 - 21:30
Thu: 05:00 - 21:30
Fri: 05:00 - 21:30
Sat: 05:00 - 21:30
Sun: 05:00 - 21:30
Membership Plans Available at World Gym Underwood
Worldgym Underwood offers three membership plans: Basic ($19.99/month), Premium ($29.99/month), and Elite ($39.99/month). Each plan offers access to the gym's facilities, classes, and equipment, with the Elite plan offering the most benefits.
About World Gym Underwood
Giving real people a home for no-nonsense workouts since 1976. Master your personal fitness goals from body-building to cardio at one of the health clubs found at WorldGym.com.
In 1976, it all began here. The iconic celebrity fitness scene. The serious, no-nonsense workout. The commitment to always remain a true gym, not a resort. A place where fitness is an authentic passion. Where you belong among friends. Where everyone is a star and you find power to lift yourself to greatness. This is World Gym, the world-famous brand for seriously fun fitness.
See what makes World Gym Underwood the Best Gym in Town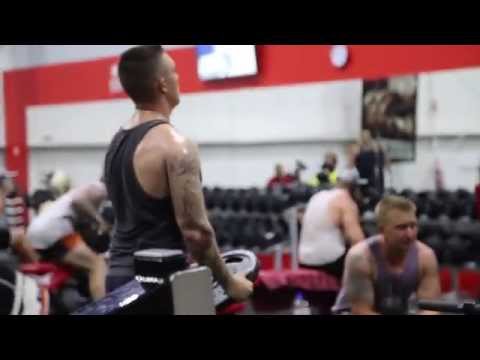 Experience the energy and community at World Gym Underwood.
See our certified trainers in action and get a feel for the energy and community at our gym. Watch now and come experience the difference at Underwood.
Get a feel for the lively and supportive atmosphere that sets World Gym Underwood apart from other gyms in Underwood
See firsthand the dedication and passion of our certified trainers as they guide and inspire members to reach their fitness goals.
Map
Enquire and view gym prices at World Gym Underwood. No obligation to join.
Customer Reviews
Worldgym Underwood is a large gym with a variety of equipment and cool murals on the walls. Customers appreciate the friendly staff, great deals for newcomers, and the modern equipment. The gym is well set out with plenty of space between machines, and customers have commented on the cleanliness of the facility. The reception staff are always helpful and friendly, and the process for getting keys to the lockers is efficient. Customers have also commented on the brand new equipment that will be available from July 1st 2022. nnThe gym also offers a variety of classes, personal training options, and exercise and training protocols. Customers have commented on the great team and awesome facilities, and the fact that it is one of the biggest gyms they have been to. They have also commented on the great deals available for newcomers and the fact that the gym is neat and tidy. nnOverall, customers have had a great experience at Worldgym Underwood and have commented on the friendly staff, great deals, modern equipment, and cleanliness of the facility. They are looking forward to the opening of the new equipment in July 2022 and are excited to see what the gym has to offer.
This gym does all the simple things right. However, I've found a couple of things quite annoying.n- There doesn't seem to be enough 2.5kg and 1.25kg weights floating around. I always find myself actively trying to scavenge a pair across the whole gym which can take a little bit of time.n- Not powerlifting friendly. Mainly there isn't any deadlift bars. I'd really love to see a deadlift bar or two get implemented into the gym.n- I don't see the appeal of the completely flat benches in front of the dumbbells. Most of the time I'm looking for an adjustable bench and it can be difficult to find a spare one right away during peak time. If I could, I would get rid of all the flat benches and replace all of them with adjustable ones. The 90 degree seated benches can stay though.
joshyboy780
***Pathetic Customer Service***nMost of the staff at the Gym are friendly & professional except one of the admin 'Jodi' who manages all the email queries.nnI have been chasing answer regarding my Account Freeze for over a week now through emails and she just totally ignoring my emails and decided not to answer a simple question regarding my account freeze. To get a straight answer from her you need to send her atleast 2-3 emails before even she bother to reply your email.nnExtremely unprofessional and lack of customer service which falls on World Gym Management who just don't care if the queries raised by their customers are resolved in timely manner.nnI have already decided to terminate my contract soon purely due to pathetic customer service and their inability to answer simple questions regarding my account.
Techie